This article is more than 1 year old
Epoch
Robot wars
iGamer With its heavy arsenal and cover-to-cover, pop-and-shoot gunplay, Epoch looks every inch the Gears of War clone. But look a little closer and you'll discover Uppercut Games' shooter has a great deal more in common with Infinity Blade than Epic's testicular trilogy.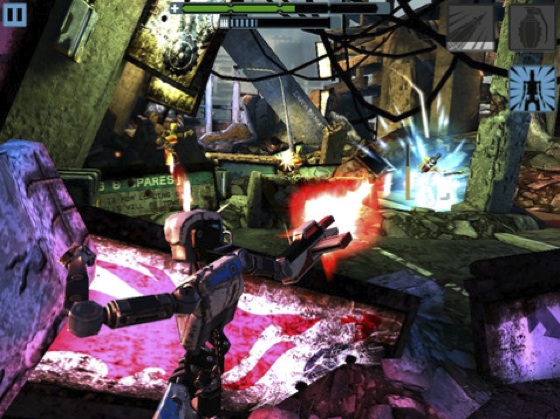 Warbots
Thanks to the Unreal Engine, it's a gorgeous looking iOS game, for starters. Then there's the structure: a diminutive campaign culminating in an exceptionally tough boss battle, rinsed-and-repeated with increased difficulty in successive play-throughs.
Naturally, there's an RPG-style leveling system to keep pace with that difficulty curve. More importantly, Epoch harnesses the critical slice of Infinity Blade's sharp design by constructing its controls around touchscreen limitations.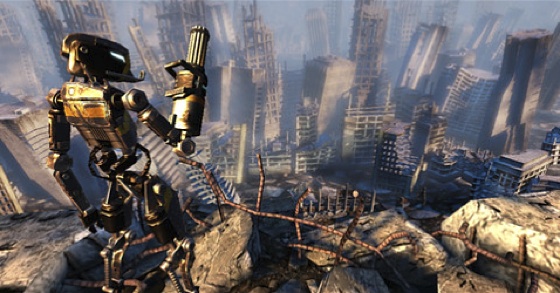 The London Olympics ground, yesterday
By sticking to simple gestures, Epoch avoids the overcomplicated controls which blight so many first- and third-person iOS games. Swipe left or right to slide your robot between three cover points, and upwards to jump from one end to the other. Tap on an enemy to target it and your robot will fire automatically.
Finally, tap one of the three special ability icons in the top-left corner to fire missiles or grenades at the current target, or to select a defensive perk such as decoy holograms or bullet time.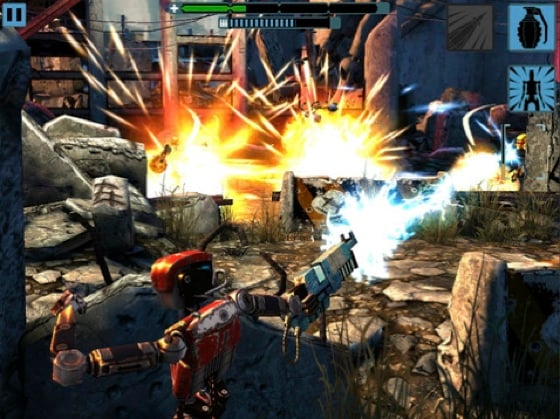 Eat lead, leadbelly
Epoch's story is equally unfussy. Delivered in short, text-only data intercepts, random eye-witness accounts tell of two robot manufacturers whose corporate competition spills out into all out robot Armageddon.
It's an interesting vehicle for the narrative, as politicians and royal guards provide the main exposition while innocent bystanders tell the personal tragedies of those caught in the carnage.