This article is more than 1 year old
Man uses CAT scanner to copy Stradivarius
CAD, CNC kit used to knock out wood
Attempts to recreate the renowned Stradivarius violin continued this week with boffins proposing an all-new approach using CAT scans and CAD software.
After studying the anatomy of several instruments using a computerised axial tomography (CAT) scanner, Mora, Minnesota-based radiologist Steven Sirr managed to get hold of a Stradivarius, borrowed from the US Library of Congress, to scan.
Along with two instrument makers, Sirr set about creating replicas of Antonio Stradivari's highly-sought violins.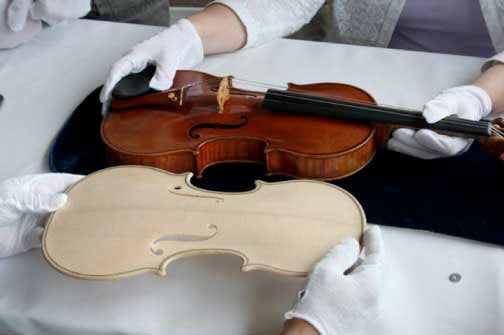 More than 1000 CAT scans were taken of the instrument, all of which were analysed and converted into 3D computer-aided design (CAD) models.
These were then fed into a CNC machine, which was used to carve the various body pieces from different woods, picked to match the density of the original.
The team has so far assembled and varnished three full replicas, which members say sound "amazingly similar to originals in their sound quality".
Their findings were presented to the Radiological Society of North America. You can read more about the process there.
With some Stradivarius violins fetching over £10m in auction houses, the search for a cheaper, yet equally impressive alternative has been a Holy Grail quest for instrument manufacturers and classical music buffs.
A few years ago, a retired university professor claimed to have successfully reverse-engineered a Stradivarius by burning wood samples and analysing the the smoke. ®