This article is more than 1 year old
Ravens' secret sign code probed
Saying 'nevermore' etc with beak gesture, seemingly
A conspiracy of ravens may be conspiring more than we ever thought, as researchers have discovered that the carrion-scoffing birds use their beaks to gesture and communicate.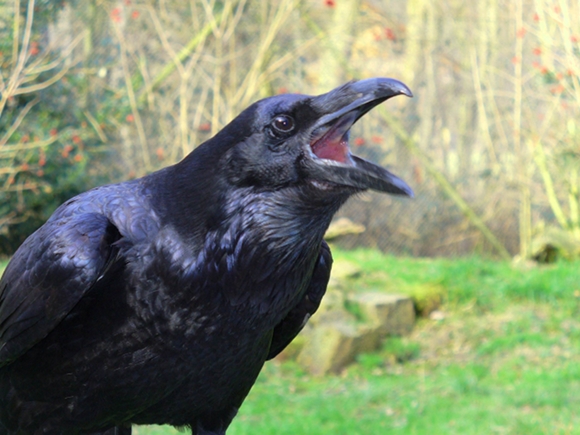 Raven croaking. Credit: Franco Atirador
Previously, so-called deictic gestures – such as pointing to signify "look" and holding something out to someone to signify "take" – were considered solely the province of human beings and our nearest relatives, the great apes.
The gestures are considered highly intelligent and the precursor to speech as it's the first use of a symbol – using one thing to mean something else.
Children use these gestures between the ages of nine and 12 months, before they first start talking, and the behaviour has also been seen in great apes, but quite rarely.
Now, two scientists from the Max Planck Institute for Ornithology and the University of Vienna are claiming that the raven also uses deictic gestures.
After two years of observing the storytelling abilities of wild ravens in Austria, Thomas Bugnya and Simone Pika said that the birds use their beaks to both show and offer objects like moss, stones and twigs, usually to the opposite sex.
Ravens have long been known to be highly intelligent, evidenced by high degrees of cooperation with each other. But this is the first time they have been seen to be communicating in a similar way to primates.
"Gesture studies have too long focused on communicative skills of primates only. The mystery of the origins of human language, however, can only be solved if we look at the bigger picture and also consider the complexity of the communication systems of other animal groups," said Pika.
The study was published in Nature Communications. ®