This article is more than 1 year old
UK space radar satellite project gets funding kickstart
Gov contribution buys half of one unit, need biz help for the rest
A portion of the promised science budget in yesterday's Autumn Statement will go on a new British-built satellite constellation, the Minister for Universities and Science said.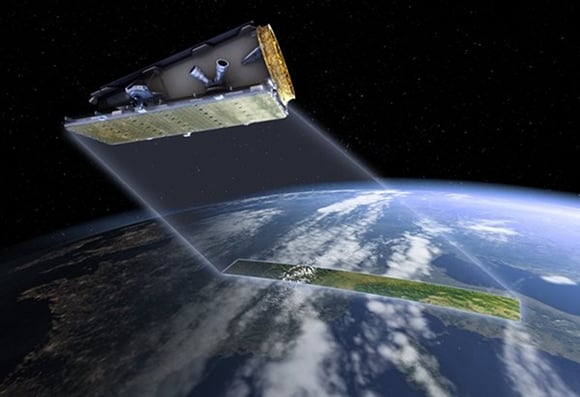 Artist's impression of a NovaSAR satellite over Earth. Credit: SSTL
Chancellor of the Exchequer George Osborne once more promised to ensure science continues to get investments in his annual update on the state of the economy and the budget .
"At a time of difficult choices, we made ours last year when we committed to protect the science budget," he said in his speech to Parliament.
"Today we're confirming almost half a billion pounds for scientific projects, from supercomputing and satellite technology to a world-beating animal health laboratory."
That satellite technology is NovaSar-S, Synthetic Aperture Radar units that can operate day and night in any weather conditions.
"They can be used for repeated viewing of specific areas which makes them ideal for maritime surveillance of drug-trafficking, piracy and oil spills, and environmental monitoring of deforestation, flooding and glacial melts," the UK Space Agency said in a canned statement.
UK.gov is going to pony up £21m to start the development and launch of the satellites, which is unfortunately only enough to buy less than half of a single satellite.
"This exciting project will provide the UK with a world-leading constellation of its own and is a clear signal of the government's continued commitment to the UK space industry," science minister David Willetts burbled enthusiastically in the statement.
"NovaSAR will keep us at the forefront of space technology, and will drive growth and innovation as governments and businesses across the globe develop scientific and commercial uses for the data."
The satellites will be built by Surrey Satellite Technology Limited (SSTL), with a payload provided by UK-based Astrium.
SSTL told the BBC that it would cost about £45m to build, launch and insure a single NovaSAR-S, so the government investment will have to be matched by some cash from the private sector before any satellite will make it into orbit.
The UK Space Agency also said that the money from the government was "subject to agreeing a business case and other regulatory and contract terms between industry and the [agency]". ®