This article is more than 1 year old
The End of Free: Web 2.0 will squeeze punters rotten
Utopia ends here
Exclusive There's no such thing as a free lunch in business - and despite what internet utopians wish for, the web is no exception.
We're used to social networks such as Facebook, email such as GMail and Yahoo! and search all being free - alongside "free" music and video offerings such as YouTube and Spotify. How much do you think this is worth? Earlier this year biz consultants McKinsey estimated that the gap between the maximum consumers are willing to pay for web services and the actual amount charged is something like €100bn a year.
In a report to clients this week S&P Equity Research reminds us why web companies are currently giving stuff away - often at below cost.
It's "because they are all focused on subscriber acquisition", which "will enable them to build a long-term defensible franchise. Once the barriers to entry are raised many of these companies will presumably start to increase the amount of advertising they carry and/or introduce or increase subscription fees just as the websites of some newspapers have started to do", according to analysts James Crawshaw and Alex Wisch in S&P's new European Communications Technology report.
Well, duh - you might think.
But a few years ago, the pop fashion was to believe that "free" was the "future of business". This was when websites were pastel coloured and unicorns roamed free: the days before the credit crunch, and the growth of Apple's content business and newspaper paywalls showed that people really could be persuaded to pay for stuff. Today, content providers are less inclined to undervalue their product - which we suspect was always the propaganda intention of freeconomics: to bully them into undervaluing what they do.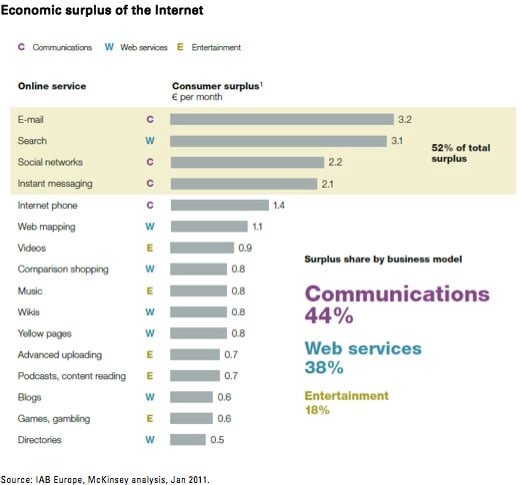 €100bn of consumer surplus is being left on the table
So what might the near future look like?
Not all web services will erect tollbooths. Email has been bundled with net access since the very first consumer internet services in the early 1990s, and it's comparatively cheap to operate today. Web advertising will continue to grow, too. But for all web service companies, the pressure to maximise their income will increase. When half a billion people spend more time on Facebook than they do watching TV, Facebook's current revenue strategy looks miserly and foolish - it makes no sense to leave so much consumer surplus on the table. Businesses are not charities, remember, and nor are their investors.
But if telecomms companies wish to grab a slice of this, Crawshaw and Wisch have some advice for them. They should get over their "mid-life crisis" and forget about becoming consumer video sites or social networks, S&P reckon:
Telecom operators have no greater chance of being our entertainment provider than our electricity provider or our bank.

Just as electricity companies have no say on how we consume the electricity in our homes (for powering a PC or a TV) our telco provider is unlikely to be our entertainment provider longer term. Telcos claim their billing relationship with customers gives them a competitive advantage. However, utility companies also have a billing relationship with us yet we wouldn't want to buy music from them.

With all the glamour surrounding internet services, telco executives are reluctant to see themselves as mere utilities. It will take time but eventually we believe most telcos will admit defeat and retreat to their core business of network operations.
Very droll. ®
Bootnote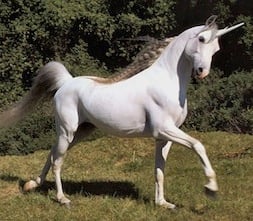 I've told this anecdote before, but it's relevant here - and gives a glimpse into a mindset so otherworldly - so apologies for telling it again.
A while ago, I was on the BBC World Service news commenting on an item on internet privacy. Google's Eric Schmidt had just said that if we were that bothered about privacy, we should just change our real identities every few years. Well, what could we do, the presenter asked. Let's suppose, I replied, that half of Facebook users paid a mere pittance (say $5 a year) for the service, then web giants wouldn't feel such a need to go data mining. They'd have more money - and we'd soon have a market of Facebooks - and be able to pick and choose between them.
The veteran BBC man looked startled by this hypothetical example of consumer activity. "Wouldn't this violate net neutrality?" he asked. Yes, sir: save that unicorn.