This article is more than 1 year old
Chrome passes Firefox in global browser share
Google has gaggle of South American fans
The latest data from internet-monitoring firm StatCounter shows that Chrome overtook Firefox in November as the world's second-favorite web browser. Number one? Still Internet Explorer.
As predicted, the company reports Chrome's market share rose to 25.69 per cent in November, squeaking past Firefox, which was at 25.23 per cent. At 40.63 per cent of global users, Microsoft's browser remains top dog, thanks in large part to the ubiquity of Windows.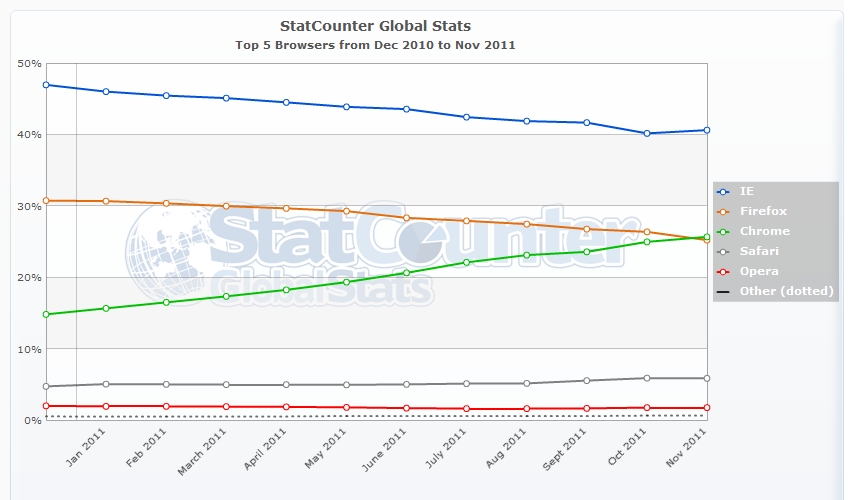 Is the writing on the wall for Mozilla?
"We can look forward to a fascinating battle between Microsoft and Google as the pace of growth of Chrome suggests that it will become a real rival to Internet Explorer globally," commented Aodhan Cullen, CEO of StatCounter in a statement. "Our stats measure actual browser usage, not downloads, so while Chrome has been highly effective in ensuring downloads our stats show that people are actually using it to access the web also."
Chrome was the only browser to show significant growth in the last two years of data, growing by around 10 per cent over the last year. Safari has seen modest growth, but both IE and Firefox have seen their market share eroded by Google's upstart.
Chrome outpaced Firefox in Europe as early as July of this year, and in Asia by September, but in the US both Google and Mozilla's browser have seen their market share slip in the face of a move to IE, which is now approaching 50 per cent of the market.
In South America, however, Chrome is already the top browser, with over 40 per cent of the market, after it took share from IE in the last quarter of this year. ®