Boffin's bot spots red light jumpers before they kill
Predictive code warns of moron motorists
---
A team at MIT has developed a computer algorithm that claims to predict which cars will run a red light at traffic intersections.
The system, developed at the MIT Aerospace Controls Laboratory, uses cameras to track a car's progress towards a red light, matching its speed, deceleration, and road position, and then predicts with 85 per cent accuracy if the driver is planning to ignore the light. The team based the code on an analysis of 15,000 cars at a road junction in Christianburg, Virginia, after using robots in the lab to mimic car behavior to develop the original code.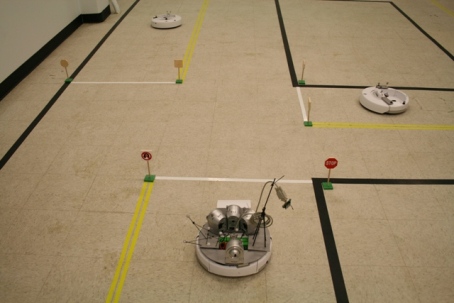 Programming bad driving
The goal is to build the software into the next generation of smart cars, which would use vehicle-to-vehicle communication to warn drivers that there is a prat about to jump the light, and that they should be on their guard. The team also envisages the car displaying the best route to take to avoid impact.
"If you had some type of heads-up display for the driver, it might be something where the algorithms are analyzing and saying, 'We're concerned'," said team leader Jonathan How, a professor of aeronautics and astronautics at MIT in a statement. "Even though your light might be green, it may recommend you not go, because there are people behaving badly that you may not be aware of."
While the technology to fully utilize the software isn't yet on the street, red-light runners definitely are. The National Highway Traffic Safety Administration estimates that 700 people each year are killed at US traffic intersections by people jumping the lights, and in half of those cases the people who die aren't the idiot that jumped the light, but are either in the car they hit or a pedestrian who gets mowed down.
This type of predictive software has been in development from a number of institutions and companies, but How said that the new system is much more accurate – cutting the false positive rate by up to 20 per cent - which is vital for getting people to use the system.
"The challenge is, you don't want to be overly pessimistic," he said. "If you're too pessimistic, you start reporting there's a problem when there really isn't, and then very rapidly, the human's going to push a button that turns this thing off." ®