NASA's Kepler mission has spotted the first possibility for a planet to escape to if it turns out the Mayans were right about 2012.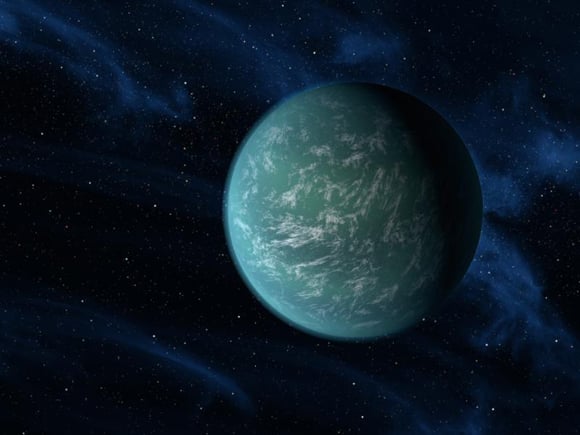 Artist's concept of Kepler 22b. Credit: NASA/Ames/JPL-Caltech
The mission has confirmed the first planet in the so-called 'habitable zone' around a star – the area where water could exist on the planet's surface.
Kepler 22b, as it has been called, is 2.4 times the size of Earth, but boffins don't know yet if it is predominantly rocky, gaseous, or liquid on the surface.
The mission suggested 54 possibly Earthlike planets before, referred to as "planet candidates", but this is the first confirmation.
"Fortune smiled upon us with the detection of this planet," said William Borucki, Kepler principal investigator, who led the team that discovered Kepler-22b. "The first transit was captured just three days after we declared the spacecraft operationally ready. We witnessed the defining third transit over the 2010 holiday season."
Kepler "discovers" planets by measuring the dips in brightness of over 150,000 stars that would indicate a planet had crossed in front of, or transitted, the star. It looks for three transits to verify the planet.
Our prospective new home, 22b, is 600 light years away and has an orbit of 290 days around a Sun-like star, which is a G-type. 22b's sun though, is slightly smaller and cooler than our own.
The number of planet candidates has increased dramatically since the last announcement in February and now totals 2,326. Of these, 207 are around Earth's size and the rest are bigger.
"The tremendous growth in the number of Earthsize candidates tells us that we're honing in on the planets Kepler was designed to detect: those that are not only Earthsize, but also are potentially habitable," said Natalie Batalha, Kepler deputy science team lead at San Jose State University. "The more data we collect, the keener our eye for finding the smallest planets out at longer orbital periods." ®
Similar topics