Intel may be hoping that 40 per cent of the notebooks that ship in 2012 will be Ultrabooks, but independent research suggests the chip giant will have to wait until 2015.
Forecasts from market watcher iSuppli made public by Samsung puts 2012's Ultrabook tally at just 12 per cent of notebook shipments.
Mind you, that still comes to 29m units, according to iSuppli's figures.
Both share and unit totals will grow through 2015, hitting 42 per cent of the laptop total during that year, the research company reckons, the result of shipments totalling 136m units.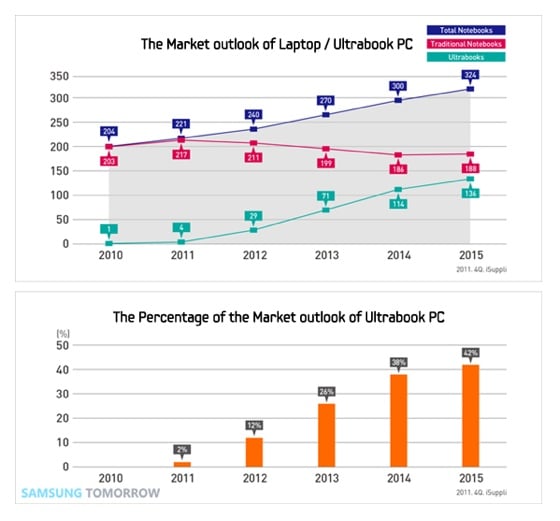 Over the years, shipments of regular notebooks will fall, from 211m in 2012 to 188m in 2015.
Totting up the numbers shows that, overall, the decline of the notebook will be more than compensated for by the rise of the Ultrabook, with laptop shipments as a whole rising from 240m in 2012 to 324m in 2015.
Back in August, iSuppli predicted tablet shipments alone will exceed 250m units in 2015.
During 2011, iSuppli says, some 217m notebooks and 4m Ultrabooks will ship, making a grand total of 221m units. ®