This article is more than 1 year old
Samsung Galaxy Note
Wee tablet, big phone? No, the ideal in-betweener
Review With Android tablets starting at seven inches and phones now reaching just under five, something was bound to come along to occupy what little middle ground remains and blur the distinction between phone and tablet irrecoverably. That something is the Galaxy Note.
The Note is a fair bit taller and wider than your average mobile, but it's not much thicker. In fact, it's only seven-tenths of a millimetre thicker that an iPhone 4S. At 178g it's noticeably heavier than the Motorola Razr but it only gives away 14g to my HTC Desire HD.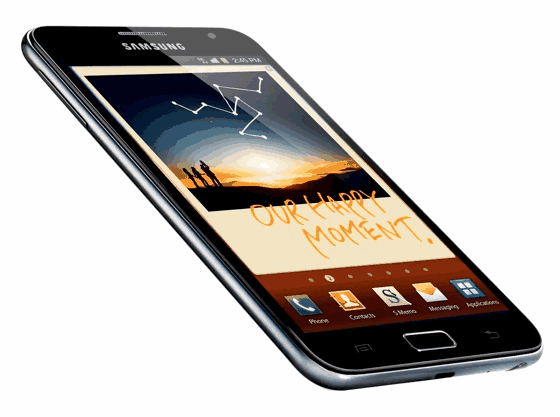 Hybrid: phone, meet tablet
This means that holding the Note single-handed is not an issue but using it so can be. No matter which hand you pick it up with, your thumb won't give you full coverage. So some judicious placing of shortcuts and re-ordering of dock icons will be in order.
The Note's killer feature is its screen. At 5.3in, the display is bigger than that of any other phone and, at 800 x 1280, it has more pixels too. The pixels-per-inch count of 285 doesn't quite match the iPhone 4S' 330ppi or the Samsung Galaxy Nexus' 316ppi, but lay the three side-by-side and there's not much in it to the naked eye.

Barely thicker than a regular phone
The words 'Samsung', 'Super' and 'AMOLED' are quickly becoming synonymous with display excellence, and that is certainly the case here. 'Bold', 'vibrant', 'sharp', 'crisp', 'saturated' - all these words can be used to describe the Note's display, but I'll stick to 'excellent' because that's what it is.
As with the HTC Flyer 7in tablet, all my preferred apps and widgets designed for phones with lower-resolution screens worked a treat on the Note. In fact, the only difference is that the screen is ranged 5 x 5 rather than 4 x 4, but that's no bad thing because it leaves room for more stuff.
The 8Mp camera on the back is none too shabby
The Note runs Android 2.3.6 Gingerbread with Samsung's generally inoffensive TouchWiz overlay. Until the arrival of an Ice Cream Sandwich update, Android isn't optimised to make full use of the Note's dual-core 1.4GHz processor but it still goes like the clappers, helped by a full gigabyte of Ram.