Carry one device not two
Other than the stylus bay, the smooth exterior is only interrupted by a micro USB slot at the bottom, a 3.5mm audio jack on the top, and power and volume buttons on the right and left side, respectively. There's no HDMI, but if you have the right cables then the micro USB port supports Mobile High-Definition Link as well as USB On-The-Go.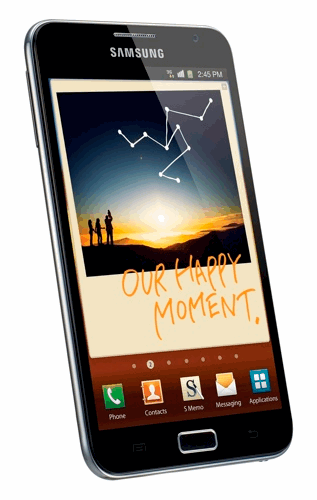 The main camera shoots at 8Mp and does a decent job of it while the forward-facing webcam tops out at 2Mp and supports Skype video calling. Video can be recorded up to 1080p and 30f/s with the main camera but not at all through the webcam.
As a phone the Note performs well, Dom Joly appearance aside. There's a good active noise cancellation system so people can hear what you're saying, and the speaker is clear and loud so you can hear them.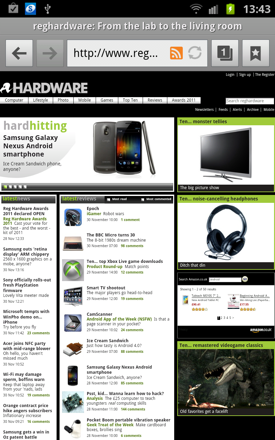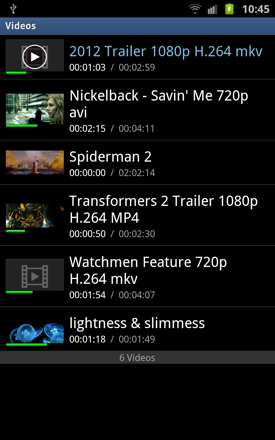 The big screen is great for browsing (left), and the Note will play HD video with ease (right)
Unclip the back and as well as the Sim and Micro SD card slots, you will find a removable 2500mAh battery which gives the Note a decent runtime on a full charge. Unless you cane it relentlessly, 48 hours of activity is easily achievable.
The fly in this so far excellent ointment is the cost. The buy the Note unlocked and Sim-free, you're looking at the thick end of £600, which is, to say the least, a lot.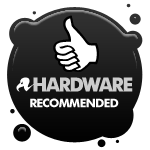 Or is it? The argument could be made that you're getting a device that will do everything a 7in tablet like the Acer Iconia A100 and a really good smartphone like the Razr can do and those two together will set you back around £700.
Verdict
For a mobile phone, the Note has a big old footprint but it's reasonably slim and not excessively heavy. It does everything you would expect of a high-end Android handset, but when it comes to all the other stuff we use our smartphones for, it leaves the competition for dead thanks to that huge, high resolution screen and the lightning-fast chip. ®
Thanks to Clove for the review sample

Samsung Galaxy Note
The ultimate mobile device for anyone who doesn't want to carry a phone and a tablet.
Similar topics