Samsung is shipping mini-Serial ATA interface solid state drives for ultrabooks, the attempt by Intel to spark a Windows equivalent of MacBook Air thin notebooks into being.
It has extended its PM830 range of 2Xnm class, 2-bit multi-level cell SSDs, with their 6Gbit/s SATA interface and 128, 256, and 512GB capacity points, by adding four m-SATA versions with 32, 64, 128, and 256GB capacities. The32GB baby is intended for caching applications and not as the main storage device.
These mini-SSDS measure 50.95 x 30 x 3.8mm and weigh in at eight grams. Like the SATA PM830 they use a Samsung controller and have 256-bit AES encryption. Hard disk drives don't have encryption as a matter of course whereas these SSDs do. It must cost the same to include the encryption technology as to do without it, so it is listed as a feature though for many of us it won't matter a jot unless the ultrabook or tablet using it is stolen and the thief wants to access the SSD's contents.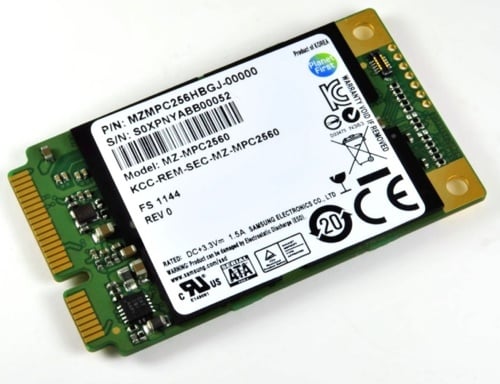 Samsung's PM830 mSATA SSD
The performance is listed by Samsung as up to 500MB/sec for sequential reads and 260MB/sec for sequential writes. Reads are just as fast as the SATA PM830, but that device writes faster at 350MB/sec, so some functionality has been lost in the transition to the smaller form factor.
Samsung says these are the industry's highest sequential read and write speeds, for mSATA SSDs we assume, as other SATA SSDS read and write faster still. For example, OCZ's Vertex 3 Max IOPS reads and writes at 550MB/sec and 500MB/sec respectively.
These mSATA SSDs will help an ultrabook boot in "the 10-second range", meaning, we guess, less than 15 seconds.
Samsung sees the ultrabook market growing strongly, quoting an iSuppli finding that they will pass tablet shipments in 2013, because they will be Wintel devices running Windows 8 and performing faster than tablets. On top of that they will represent more than half of all notebook shipments in four years time. ®
Similar topics