Here's a genuine record-breaker: a black hole with nearly ten billion times the mass of our Sun, an event horizon that would stretch five times further than the orbit of Pluto if we had the misfortune to have it drop in, and a gravitational sphere of 4,000 light-years.
With such a huge mass and long reach, it's no surprise that the newly-discovered behemoth at the heart of galaxy NGC 3842 (320 million light-years away in the direction of Leo) has also gathered around it a huge galaxy of more than a trillion stars.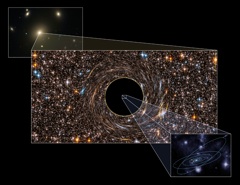 NGC 3842's black hole would dwarf the solar system.
Image: Pete Marenfeld.
It's one of two new relatively-nearby giants that break the record for black hole awesomeness (previously, the record was given to black holes that were a measly six billion solar masses). The other, in elliptical galaxy NGC 4889 (336 million light-years in the direction of Coa Berenices), could be even larger.
"These black holes may shed light on how black holes and their surrounding galaxies have nurtured each other since the early universe," said UC Berkeley graduate student Nicholas McConnell, first author of a paper on the discovery being published in the December 8 issue of the Nature.
"These two new supermassive black holes are similar in mass to young quasars, and may be the missing link between quasars and the supermassive black holes we see today," says UC Berkeley professor of astronomy Chung-Pei Ma.
Ma says these supermassives were probably once qasars that cleaned out their neighborhoods of clouds and dust. They then became the nucluei of huge galaxies of more than a trillion stars each.
She says that multiple galactic mergers could also create monsters like these.
Because these black holes have settled down and raised their galactic families, they're now in a relatively quiet part of the universe, which is why they haven't been observed until now. Ma's discovery is to be published in Nature.
Young supermassives
That's not the only surprise the world of black hole astronomy has turned up today. A group of researchers at Yale has scoured data from the Hubble Space Telescope, and turned up some supermassives that are too young.
Kevin Schawinski – Einstein Fellow at Yale's Center for Astronomy & Physics – published his result in Astrophysical Journal Letters. In the article, he says observations of a clumpy galaxy reveal a black hole at the heart of a still-forming galaxy.
According to R&D Magazine, Schawinski – who made the news in September as leader of a crowd-sourced project to sift planets from Kepler data – current theory assumes that supermassive black holes all formed soon after the Big Bang.
His new discovery, however, challenges that notion, identifying three supermassives that appear to be only around 4.8 billion years old, and are right now in the business of galaxy formation.
"As far as the host galaxy is concerned, these just popped into existence," he said. "They're feeding on material about as fast as they can." ®
Similar topics