Cisco wants to build your cloud
Might as well face it, you're addicted to video
---
Networking giant and server wannabe Cisco Systems put the word out on the street that it was making a big cloud announcement today, but if you were expecting the company to launch a big wonking public cloud and take a run at the Amazon compute cloud juggernaut, you can forget it.
What Cisco did do was introduce its CloudVerse initiative for building, managing and connecting clouds and spent more than an hour showcasing its telepresence capability and how "clouds" were driving the announcement itself.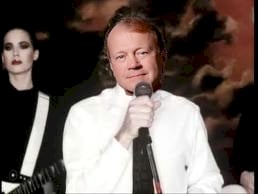 Gonna have to face it, John, you're addicted to video
The CloudVerse initiative – it's not really a product – is about capitalizing on whatever cloudy infrastructure build-out there is. To that end, Cisco is making its networks more cloud friendly.
The company rolled out a bit of software called Intelligent Automation for Cloud, which layers atop Cisco's Unified Computing System blade and rack servers and its Nexus family of switches. It provides a self-service portal and orchestration engine for provisioning server, storage, and network resources in a public, private, or hybrid cloud based on these Cisco technologies.
The company also gussied up its Network Services Manager 5.0 tool so it can configure and modify both physical and virtual networks. The Network Provisioning System announced last year for its Carrier Routing System (CRS) routers will come to the Aggregation Services Router (ASR) 1000 and 9000 series routers used by service providers next year. It figures out the physical location of cloudy infrastructure and takes that into account when provisioning workloads across multiple clouds.
Cisco's CloudVerse initiative also includes hosted versions of Cisco's own collaboration tools – telepresence, voice communications, virtual desktops, and such – and variants of these stacks aimed at service providers who want to add this "fixed device" functionality for mobile devices. One interesting feature of the Mobile Hosted Collaboration Solution is that it allows you to bounce from a fixed to mobile phone, or vice versa, without dropping a call. These hosted collaboration tools are available on a limited basis now, and will be generally available in 2012.
Cisco's Padmasree Warrior, CTO at Cisco, steered the discussion around "the world of many clouds" and trotted out partners from Terremark, ACS, Qualcomm, Orange Business Services, who discussed how cloud computing was transforming everything in IT. Cisco CEO John Chambers, who was hosting the company's quarterly meeting with 10,000 managers, cut into the webcast to talk about how video was the next killer app – even for core IT applications.
While everyone was talking about clouds, this was really more of a commercial for telepresence than anything else. No surprises there, considering that Cisco needs a killer app that eats beaucoup bandwidth to drive 10GE, 40GE, and 100GE network equipment sales.
While it is a good thing that Cisco has a Telepresence Arena in Building 24 that has 350 screens mounted to the wall like a TVC15 on steroids and can simulate up to 1,000 video endpoints, that lab is not a cloud in the sense that customers are thinking about them, and more importantly, consuming video takes a lot of time and reading a spec sheet doesn't.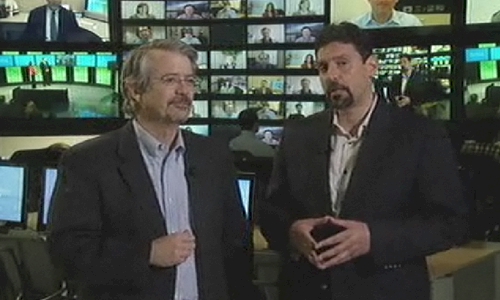 Lew Tucker (left), Cisco's cloud computing CTO, in the Telepresence Arena
with Wael Kamel (right), telepresence operations director
The mantra from Blair Christie, chief marketing officer at Cisco, was that "the network makes cloud possible." (Well, yes. But in the same sense that a server does or its hypervisor does.)
This was a sentiment enthusiastically echoed by Kerry Bailey, president of the Terremark hosting and cloud computing unit of telecom giant Verizon. Bailey has a vested interest in seeing cloud computing take off and convincing businesses of all sizes to let go of their infrastructure and let Verizon run it. He said that the triple whammy of cheap broadband, virtualization, and a tough economic environment have come together to convince many customers to take a look at running their applications in the heavens rather than in their own glass houses.
Bailey said that various industry estimates suggested that cloud could account for about $100 billion in IT spending in 2012, a very small slice of the $3.5 trillion in global IT and telecom spending. But he said that the cloud market "was on fire" and this number was too low.
"I think we're going to see it be 20 per cent of total IT spending next year because of the adoption we are seeing," Bailey said.
Cisco is sure hoping this turns out to be true. ®