Xmas Gift Guide The days of piling shelves high with videotape recordings of shows once broadcast then forgotten are long gone. The current generation of DVRs and media streamers ensures that no TV programme remains unwatched for long, whether you snare it with a series link or stream it via a catch-up service.
These days it's hard to miss a show even if you try.
The challenge now is to manage this unceasing torrent of televisual entertainment as best you can. Helpfully, the past 12 months have seen the most advanced and audacious selection of DVRs and streamers released yet, from VirginMedia's TiVo-branded smart recorder to do-it-all entertainment packages from Samsung and Panasonic.
Which one will be your next box?
LG ST600 Smart TV Upgrader

You don't actually need to replace your TV if you want a connected viewing experience: you can just upgrade to IPTV functionality. Both Sony and LG offer similar products, but it's LG's superior media streaming talents - it'll play MKVs on downwards - that give it the edge over Sony's rival, the SMP-N100/N200.
The ST600 connects to any TV via HDMI, and to your home network through Ethernet or integrated Wi-Fi. A USB port is provided for local file playback. Mimicking LG's net connected TVs and Blu-ray players, there's access to the brand's Smart TV portal and all the streaming services that implies, including YouTube, BBC iPlayer, Acetrax and Vtuner radio. Easy to install and a doddle to use, this is the simple way to a Smarter TV.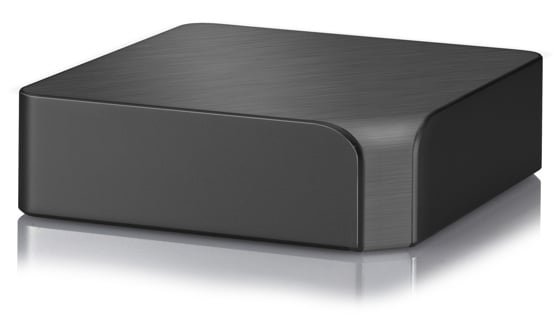 Reg Rating
75%
Price
£130
More Info
LG
Panasonic DMR-HW100

Welcome to the first 3D-specific Freeview+HD DVR. It's much like any other Freeview HD recorder – offering seductive series-linking and HD recording prompts – but with the added attraction of 3D terrestrial TV recording with correct signal flagging for 3D-ready TVs, conversion of 2D programme material to fake 3D, and the ability to store and display digital 3D images in the MPO format. Stereographers, rejoice!
Strip away the 3D frippery, and you have a digital recorder with a 320GB hard drive, excellent local USB media playback and online access to Panasonic's VieraConnect smart portal, which offers Skype, YouTube, DailyMotion, BBC News and more, but no iPlayer - although we are told it's coming. 
If you want to make the most of your new 3D TV, this DVR is the way to go.

Reg Rating
75%
Price
£299
More Info
Panasonic
Sponsored: Webcast: Discover and secure all of your attack surface