This article is more than 1 year old
Brit balloonist reclaims UK altitude record
Hits 40,986 metres, then invades Belgium
A proud Brit enthusiast has reclaimed the UK altitude record for a helium-filled meteorological balloon - hitting 40,986m just a few months after Oz student Mark Jessop's globe soared to 40,575m above East Anglia.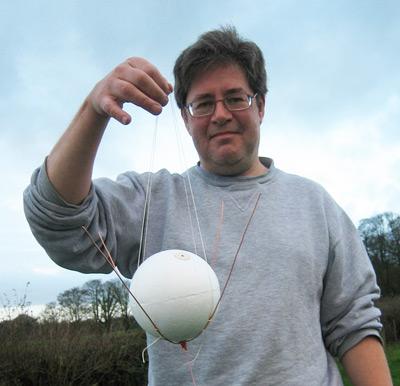 Dave Akerman launched his Buzznik payload (see pic), on Saturday from his home village of Brightwalton, in Berkshire.
It eventually came down in Belgium, some 200 miles (322km) from the launch site. Dave pursued the balloon via the Buzznik's UHF radio downlink, with the help of members of the UK High Altitude Society.
Jessop was following the action on the Highaltitude chat forum, and was "particularly supportive, shouting 'burstburstburst!!!' as the flight approached his record," Dave notes.
By the time he made it through the Channel Tunnel and onto foreign soil, Dave wasn't able to immediately pinpoint the landing site, and wisely retired to Bruges for "beer and waffles".
He told El Reg: "I can report that Belgian beer is much better than that weak Aussie stuff :-)"
The payload was recovered the next day from a muddy field by a Belgian enthusiast, having flown to the top of the UK altitude rankings. The world record stands at a heady 41,618m.
Dave explained: "I was particularly miffed when our Aussie friend took the record originally, because he used the same basic idea (large balloon + small payload) that I already planned; he just got there first!"
Now that the altitude trophy is back in British hands, Dave said of the Anglo-Oz rivalry: "It was all in good humour and Mark did congratulate me afterwards."
There are full details on the record-breaking ascent here. ®