SCSI Express
SCSI Express uses the SCSI protocol to have SCSI targets and initiators talk to each other across a PCIe connection; very roughly it's NVMe with added SCSI. HP is a visible supporter of it, with there being SCSI Express booth at its HP Discover event in Vienna, and support at the event from Fusion-io.
Fusion said its "preview demonstration showcases ioMemory connected with a 2U HP ProLiant DL380 G7 server via SCSI Express ... [It] uses the same ioMemory and VSL technology as the recently announced Fusion ioDrive2 products, demonstrating the possibility of extending Fusion's Virtual Storage Layer (VSL) software capabilities to a new form factor to enable accelerated application performance and enterprise-class reliability."
The SCSI Express standard "includes a SCSI Command set optimised for solid-state technologies ... [and] delivers enterprise attributes and reliability with a Universal Drive Connector that offers utmost flexibility and device interoperability, including SAS, SATA and SCSI Express. The Universal Drive Connector also preserves legacy investments and enables support for emerging storage memory devices."
An SNIA document states:
Currently ongoing in the T10 (www.t10.org) committee is the development of SCSI over PCIe (SOP), an effort to standardise the SCSI protocol across a PCIe physical interface. SOP will support two queuing interfaces - NVMe and PQI (PCIe Queuing Interface).
PQI is said to be fast and lightweight. There are proprietary SCSI-over-PCIe products available from PMC, LSI, Marvell and HP but SCSI Express is said to be, like PQI, open.
The support of the NVMe queuing interface suggests that SCSI EXpress and NVMe might be able to come together, which would be a good thing and prevent the industry working on separate SSD PCIe-interfacing SoCs and operating system drivers.
Of course this imagining could be just us blowing smoke up our own ass.
There is no SCSI Express website but HP Discover in Vienna last month revealed a fair amount about SCSI express, which is described in a Nigel Poulton blog.
He says that a 2.5-inch SSD will slot into a 2.5-inch bay on the front of a server, for example, and that "[t]he [solid state] drive will mate with a specially designed, but industry standard, interface that will talk a specially designed, but again industry standard, protocol (the protocol enhances the SCSI command set for SSD) with standard drivers that will ship with future versions of major Operating Systems like Windows, Linux and ESXi".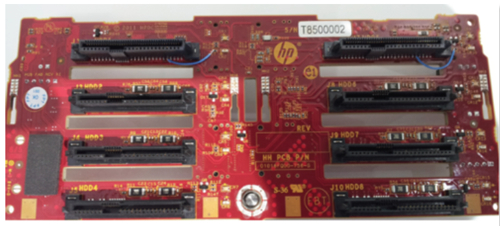 HP SCSI Express card from HP Discover at Vienna
Fusion-io 2.5-inch, SCSI Express-supporting SSDs plugged into the top two ports in the card pictured above. Poulton says these ports are SFF 8639 ones. The other six ports appear to be SAS ports.
A podcast on HP social media guy Calvin Zito's blog has two HP staffers at Vienna talking about SCSI Express.
SCSI Express productisation
SCSI Express productisation, according to HP, should occur around the end of 2012. We are encouraged (listen to podcast above) to think of HP servers with flash DAS formed from SCSI Express-connected SSDs, but also storage arrays, such as HP's P4000, being built from ProLiant servers with SCSI Express-connected SSDs inside them.
This seems odd as the P4000 is an iSCSI shared SAN array, and why would you want to get data at PCIe speeds from the SSDs inside to its X86 controller/server, and then ship them across a slow iSCSI link to other servers running the apps that need the data?
It only makes sense to me if the P4000 is running the apps needing the data as well, if the P4000 and app-running servers are collapsed or converged into a single (servers + P4000) system. Imagine HP's P10000 (3PAR) and X9000 (Ibrix) arrays doing the same thing: its Converged Infrastructure ideas seem quite exciting in terms of getting apps to run faster. Of course this imagining could be just us blowing smoke up our own ass.
El Reg's takeaway from all this is that NVMe is almost a certainty because of the weight and breadth of its backing across the industry. We think it highly likely that HP will productise SCSI Express, with support from Fusion-io and that, unless there is a SCSI Express/NVMe convergence effort, we're quite likely to face a brief period of interface wars before one or the other becomes dominant.
Concerning SCSI Express and NVMe differences, EMC engineer Amnon Izhar said: "On the physical layer both will be the same. NVMe and [SCSI Express] will be different transport/driver implementations," implying that convergence could well happen, given sufficient will.
Our gut feeling is that PCIe interface convergence is unlikely, as HP is quite capable of going its own way; witness the FATA disks of recent years and also its individual and admirably obdurate flag-waving over Itanium. ®