Review Macs were never made to be messed with. Apple has softened its approach to aftermarket upgrades in recent years, a little, making it easy to switch out both the memory and hard drive in most MacBooks made in the past couple of years. But the MacBook Air is still a bit of an upgrader's island - you can't even bump up the Ram as it's soldered to the logic board.
In fact, the only component that you can actually upgrade in the current generation MacBook Air without heating up your soldering iron is the SSD sitting inside.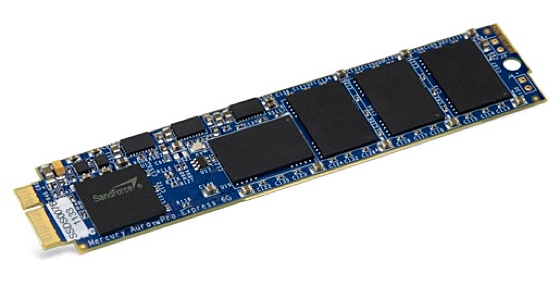 Configured for mSata
You've got to find a the right replacement - a standard 2.5in drive won't even fit inside an Air - but Apple's recent move to use the mSata (mini Sata) connector means aftermarket drives are at least an option. Which is where OWC comes in.
OWC has been maxing out Macs for years, although its MacBook Air SSD upgrade is probably one of its simplest upgrades to fit. If you can change memory modules, you are qualified for this upgrade.
The latest, 2011 Airs feature a 6Gb/s Sata 3 connector for the SSD, although the disk Apple supplies only connects at 3Gb/s. Apple also uses two SSD suppliers - Samsung and Toshiba - and, according to users, the Samsung unit is considerably faster than the Toshiba one. Which one you get when you order an Air comes down to pure luck.

Too skinny for a standard 2.5in drive
In order to take full advantage of the 6Gb/s link, OWC has the snappily named 6G Mercury Aura Pro Express SSD. This upgrade is purely about performance - the maximum capacity OWC sells is 240GB, which is actually 16GB smaller than a fully tricked out MacBook Air custom order from Apple.
That's because the OWC drive's Sandforce controller reserves that 16GB - it's called "over provisioning" - for its own use, to ensure there's always empty space to write data to, part of the way the chip mitigates Flash's knack of slowing down write performance as the drive fills up.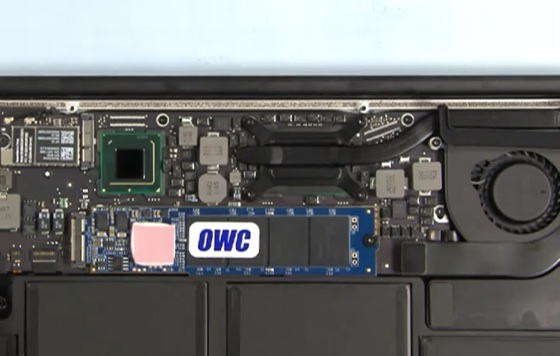 The new drive in place
OWC also makes a slower, 3G-branded drive as well, which goes up to the heady heights of 480GB, but at a price of $1079 (£690) is actually more expensive than the cheapest MacBook Air - $999 in the States.
The 6G OWC SSD is not compatible with earlier Airs than the 2011 models.