Judge Dredd vs Zombies
'I am the Law'
Review Cop of the future Judge Dredd has been pounding the streets of Mega City One since 1977, but it took host comic 2000AD's acquisition by software developer Rebellion in 2000 to see the lawman to star in a decent videogame. Dredd has appeared on the PC, the PlayStation and the Xbox, and now he's meting out justice, shot by shot, on the iPad and iPhone.
The scenario? Who cares? This is Dredd executing ever larger mobs of zombies, wisecracking on the way. It doesn't really matter why. The plot is no more pertinent to the gameplay than those angry birds' motivation for catapulting themselves at pigs. The fun is in the flinging or, here, the fighting.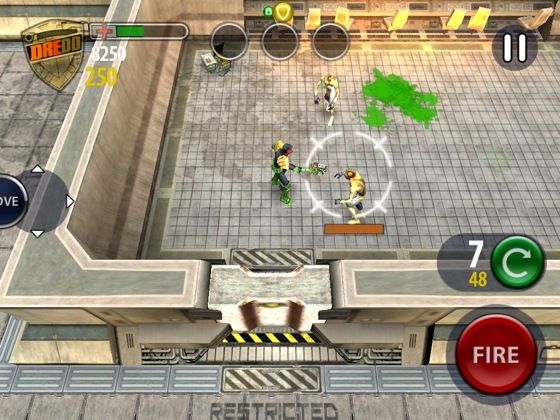 You're goin' down, creep
And, let's be honest, Dredd vs Zombies is Angry Birds, with guns, the undead and better dialogue. But it's the same repetitive gameplay, with AB's individual levels here rendered as rooms and corridors within a bigger level.
As soon as you enter each section, the doors slam closed and you have to destroy the undead within if you want to proceed. Bizarrely, they come up through the floor - in a tower block? - more appearing as the initial horde are laid to rest.
All done, the doors open and Dredd can proceed to the next lot.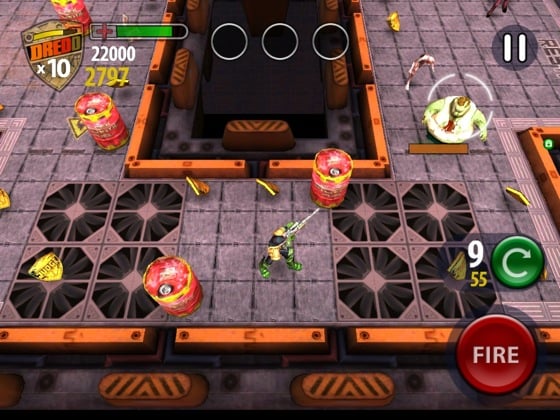 It's a long shot, Dredd
The presence of large Judge Shield badges to collect like so many Super Mario Bros. coins prevents the game being played as a third-person adventure in the world of the comic strip. But it does provide a mechanism for gaining points to spend on improving your weaponry, buying better guns and attaining superior combat skills.
And, this being the era of the 'freemium' mobile game, you can top up your Credits by spending real money. I'm not sure I approve. I couldn't quite rid myself of the notion that the game might not be so readily doable without coughing up more cash.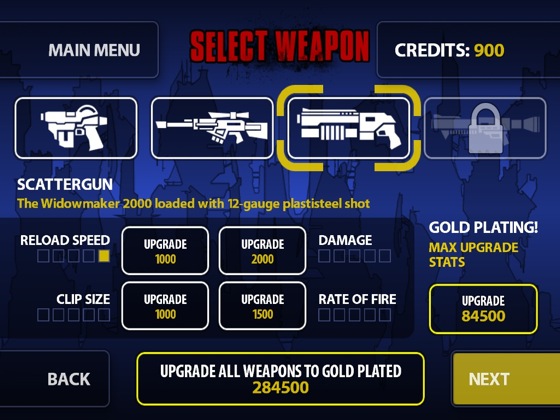 Choose your weapons
It's certainly hard to proceed without Credits, earned not only by destroying your zombie opponents quickly - very quickly, though each Shield you grab gives you a few more seconds to gain maximum kill points - and by taking as little damage as possible. A few hits and Dredd is calling for a medpack - one more and the mighty lawman is toast.