The University of NSW has announced the first fruits of its new intellectual property regime, in the form of software designed to improve wind power forecasting.
Forecasting is important for wind farm operators, since the weather can trigger very rapid changes in wind power output. A Brisbane-based energy market modeling specialists, Roam Consulting, drew on research conducted at UNSW to create a package called Wind Insight, which seeks to automate such forecasts.
The arrangement neatly closes a circle: the original research was conducted by a PhD student, Nicholas Cutler, now an engineer at Roam Consulting.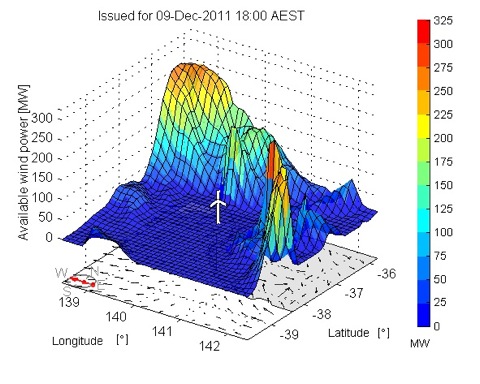 Not just hot air: forecasting wind farm output is a challenge.
Source: Roam Consulting
"My research aim was to develop a wind power forecasting technique to facilitate the uptake of wind power into the national electricity market," said Cutler. His original research was then turned into prototype software under funding from the Australian Energy Market Operator.
Wind Insight seeks to adjust weather forecasts to solve a particular problem faced by operators: while forecasters like the Bureau of Meteorology provide high-quality predictions for likely wind strength, the location may be "displaced by 50 to 100 Km", the company says.
The software creates field animations (demo here) to allow users to estimate this displacement and manage their systems accordingly. ®