Butter-fingered admin work at NASA HQ has meant that hundreds of moon rocks, meteorites and cosmic dust samples have gone missing since the 1980s.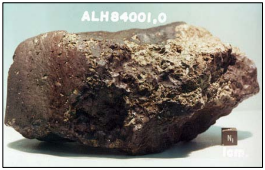 A 4bn year old meteorite, currently still in NASA's possession
Poor back-office work was blamed for the mishaps in a report by NASA's Audit Office that recorded that 516 pieces of NASA's 26000 samples of space material have gone AWOL between 1970 and June 2010.
The actual number of missing moon pieces could be higher as a small audit of some of the samples currently on loan revealed that 19% of the materials were unaccounted for.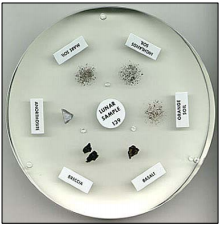 Lunar rock and soil sample
In one case a disk containing three samples of lunar soil and three lunar rock materials lent to the Mount Cuba Astronomical Observatory in Delaware in 1978 has disappeared: the Observatory claim it was returned in the 90s, NASA believe it was never given back. Though the loan lapsed in 2008, it took NASA two years to request its return.
In another slip-up a scientist kept a moon rock for 35 years without ever doing any research on it.
Funding constraints meant that the NASA Curation Office hadn't done a full inventory since the 1980s. But simple procedures were also to blame - for example no loan agreements were ever signed for meteorites or cosmic dust samples.
The report recommends introducing detailed safeguarding procedures, loan agreements for all types of astromaterials and proper procedures for tracking and returning samples.
In the meantime, if NASA need a spare rock, there's one kicking about Bill Clinton's filing cabinet. ®