Busty Ohio mannequin survives assassination attempt
Plastic mayoral candidate in drive-by shooting shocker
---
A busty Ohio mannequin with political pretensions has survived a terrifying assassination attempt, local new outlets report.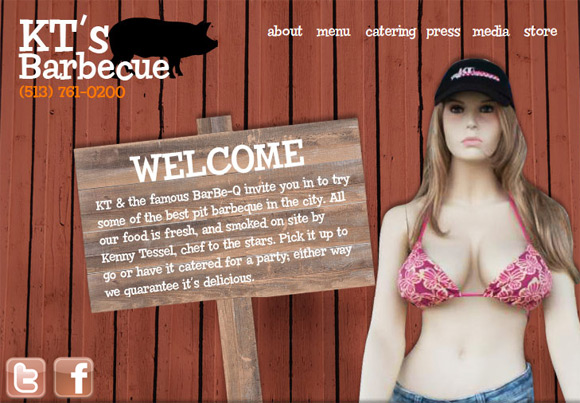 BarBe Q (in all her mamtasic glory, above) is the big up front for KT's Barbecue in Reading, and recently ran for mayor of the town, after diner owner Kenny Tessel evidently threw a strop at the local authorities' attempt to clamp down on his jubtastic promotion.
In 2009, Tessel had a bit of a run-in with the powers that be over his asset-heavy attraction, when residents complained about the plastic strumpet dressed in "under-sized halter top and Daisy Duke short shorts".
In the end, Tessel won his battle to promote his business in chestacular style, but a subsequent attempt to gain political power attracted exactly nil votes
Nonetheless, BarBe Q's assets are evidently so threatening that one local was moved to vote with his gun.
This chilling report breathlessly recounts: "Three shots rang out. One went for her plastic head. Two were chest shots. The glass shattered. But, the bullets missed BarBe."
A shocked Tessel said of the incredible escape: "That's because she was wearing her Supergirl outfit."
Tessel's 800 bucks out of pocket as a result of this exercise in democracy. He sighed: "That's what happens when an idiot does something stupid." ®