Missing submarine washes up on Sunshine Coast beach
And yes, the submarine was yellow
---
A remote-control robot submarine lost by university researchers has washed up on a beach on Queensland's Sunshine Coast.
The Sydney University researchers were more than a little upset at losing track of the vehicle, which they were using for kelp and coral mapping on the sea floor east of Moreton Island. They were devastated: the unit, which belongs to the university's Australian Centre for Field Robotics, is worth a handy half-a-million dollars.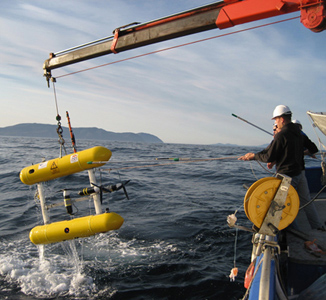 A Sirius AUV being lowered into the water. Source: Sydney University.
Known as the AUV (autonomous underwater vehicle) Sirius, the sub disappeared quite abruptly after its mapping trip, reports the Sydney Morning Herald: after shutting down normally, "something went wrong and it suddenly dived out of sight."
Although fitted with a radio beacon and strobe, neither the researchers nor the Brisbane coast guard were able to find the AUV Sirius.
However, their luck turned when walkers and lifeguards found the submarine washed up and with only minor damage on Glen Eden Beach and called the Sunshine Coast Daily.
Sydney University's associate professor Stefan Williams said that nobody was looking at the Sunshine Coast, which is north of where the device disappeared: the searches conducted after it was lost covered hundreds of square kilometers, but had focused on locations south of Moreton Island, such as the Gold Coast.
"We weren't even looking at the Sunshine Coast. We've been in contact with every other yacht club, surf life saving club and coast guards around where we thought it would end up," Dr Williams said. ®