This article is more than 1 year old
Elon Musk's private Dragon ship to dock with ISS in Feb
Then descend for splashdown, unlike European ATVs
NASA has announced that - all being well - the first mission to the International Space Station by a privately built and operated spacecraft will lift off on February 7. The craft will be a Dragon capsule launched atop a Falcon 9 rocket, both made and handled by techbiz visionary Elon Musk's new company SpaceX.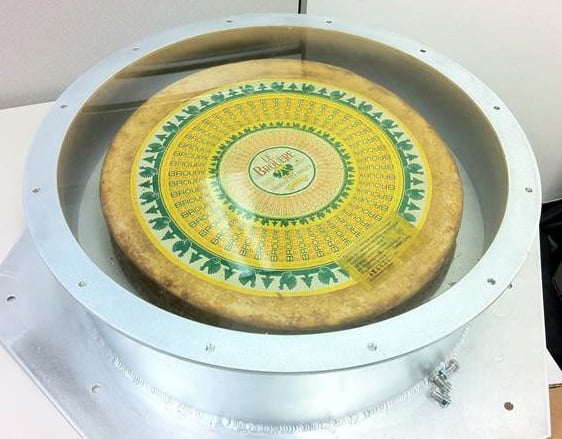 The highest, fastest cheese ever.
"We look forward to a successful mission, which will open up a new era in commercial cargo delivery for this international orbiting laboratory," said NASA honcho William Gerstenmaier in tinned quotes announcing the planned date. However he didn't stick his neck out, adding cautiously:
"There is still a significant amount of critical work to be completed before launch, but the teams have a sound plan to complete it and are prepared for unexpected challenges. As with all launches, we will adjust the launch date as needed to gain sufficient understanding of test and analysis results to ensure safety and mission success."
Thus far the Dragon capsule has flown just once, achieving a textbook lift to orbit atop its Falcon 9 launch stack followed by two circuits of the Earth and a successful splashdown in the Pacific. On that occasion it carried only a large cheese, but it is planned to use the Dragon to deliver supplies to the International Space Station.
Previously it had been expected that there would be another Dragon demo flight prior to actual docking with the Station, but plans have been speeded up and now the capsule will mate with the station on only its second flight. This had been pencilled in to take place this year, but delays on the docking technology have pushed the flight back.
The Dragon and the Falcon 9 which lifts it are all-new designs. The Falcon 9 is expected to be much cheaper to operate than competing rockets as it is a more modern design - many rockets in current use have been around since the 1970s or even longer - and it uses comparatively easy-to-handle kerosene fuel rather than cryogenic liquid hydrogen like many of its opponents.
The Dragon, meanwhile, doesn't get thrown away into the atmosphere to burn up once its work is done in the fashion of a European ATV or Russian Progress capsule. For now, Dragons splash down by parachute into the ocean, but the intention is that in future they will make precision set-downs on land using retro-rockets, minimising the expense of recovering and readying them for another flight. Again, this is expected to prove a much cheaper process than building an entire new capsule every time as is the practice at the moment.
SpaceX in general expects to achieve much lower running costs than the traditional space launch arrangement in the USA, which normally sees NASA or the US military/intelligence community partnered with the giant monopoly United Launch Alliance (created by amalgamating the rocketry empires of behemoths Lockheed and Boeing). Huge workforces at both NASA and ULA combine to build and launch dated, often cryogenically-fuelled rockets* at great cost.
But SpaceX builds and launches its craft with just 1500 employees, and Musk's quoted rates are such as to undercut even the Russian and Chinese space industries, let alone America's or Europe's.
"SpaceX is on the forefront of demonstrating how a partnership between the government and private industry can lead to new capabilities and provide a large return on investment," says Alan Lindenmoyer, NASA's chief purchaser of off-the-shelf space lift.
Lindenmoyer expects to hand out a total of $396m to SpaceX under the current incarnation of the NASA commercial-space programme, a sum which might buy a single heavy-lift launch from ULA. For this the space agency gets a whole new rocket and spacecraft, which ought to be able to keep the ISS supplied at a fraction of the cost of using ATVs and Progress capsules.
Plans are in place to use the Dragon to carry astronauts as well as cargo to the station in future, though the budget for this has recently been cut back. Musk and SpaceX also have publicly-avowed plans to try for business launching hefty US spy satellites, and less openly acknowledged schemes to build a massive superheavy lift stack to rival the Saturn Vs of yesteryear. This latter would be a direct rival to the Space Launch System which NASA and ULA plan to build for future manned missions beyond Earth orbit.
All these schemes will struggle to claw US government cash away from the ULA, NASA and military workforces who are expecting to get that money, so Musk needs to keep achieving successful test flights. As ever with a SpaceX launch, February looks to be a tense month not just at the upstart rocket firm but all across the US space industry. ®
Bootnote
*Though there are exceptions: The popular Atlas V uses an imported Russian kerosene engine in its first stage.