Google execs eye NASA's Hangar One to park their air fleet
Dirigible aircraft-carrier dock to house web-lord jets
---
Google's co-founders are on a mission to save NASA's Hangar One, which once housed the US Navy's airships at Moffett Field but has latterly been rented by the Chocolate Factory's top brass to provide a shelter for - among other things - a fighter jet.
Mountain View's troika of execs - Sergey Brin, Larry Page and Eric Schmidt - own a fleet of eight private jets and their privately held company, H211, wants to park the aircraft at Hangar One.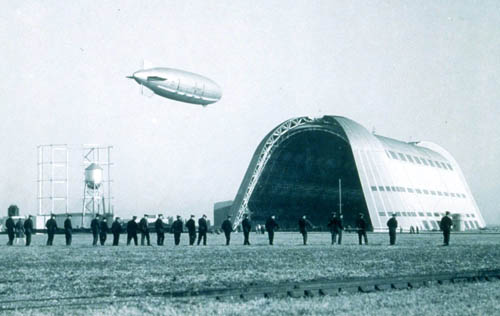 Hangar One in 1934 looking like a grounded UFO
Now the men want to give $33m to NASA to give the hangar a full makeover - and the US space agency is mulling over Google's offer, according to the Mercury News.
If NASA accepts, Google could be allowed to use up to two-thirds of the available floor space - ideal for the business's bossmen, who in October 2008 bought a 1982 Dornier Alpha Jet and parked it in the hangar alongside a Boeing 757, a Boeing 767, two Gulfstream Vs and other luxury planes.
Brin, Page and Schmidt submitted their proposal to NASA in September this year, but the details of that plan came to light late last week during a meeting of the Hangar One subcommittee of the Moffett Field Restorations Advisory Board.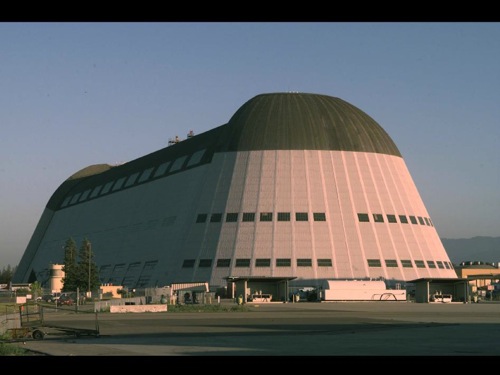 H211 director of operations Ken Ambrose said at that meeting this his company wanted to "restore and reuse" Hangar One, which is the "object of a Navy Superfund Removal Action".
The proposal was endorsed by the subcommittee.
"Though we still believe that the restoration of Hangar One is the obligation of the federal government, we urge you and your colleagues in Congress to work to ensure that NASA, the current owner of the hangar, immediately consider the proposal," the group wrote in an advisory to congressmen and women.
"Any delay is likely to increase the cost of preservation and contribute to the degradation of this magnificent landmark."
One attendee to the subcommittee meeting described Google's proposal as "noble", while another representative cautioned that: "We don't want to see 'Google' in 200-foot letters on that hangar."
Google, under such an agreement, would enter into a "master lease", effectively using most of the floor space to house its eight jets, one of which is being sold by Mountain View. The remaining part of the hangar not rented out by Google could be used, the subcommittee said, to host a museum or educational centre.
"H211's proposal will not lead to noticeable changes in airfield use, and its activities will remain consistent with H211's Space Act agreement, under which it supports NASA's scientific mission."
The US Navy is removing the contaminated outer skin of the building, the work for which is not expected to be completed until mid-2012. It has erected specialist scaffolding at a cost of $12m.
If a deal can be reached with Google, or another would-be benefactor, in time then the scaffolding can remain while a new covering is wrapped over Hangar One.
A NASA spokesman told Mercury News that "it would be premature to discuss the merits of the proposal until we have had time to review the details".
"It has not yet been completely vetted," he said.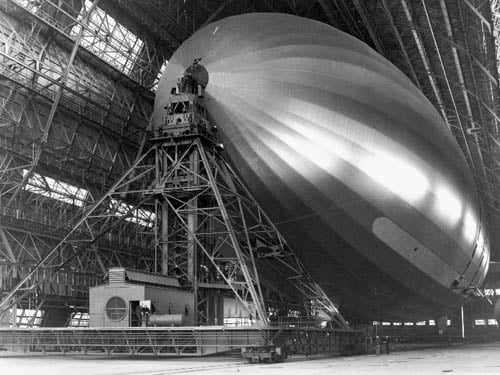 USS Macon in Hangar One, 1934
"We understand the interest and historic nature of the facility and we have to weigh that against the reality of constrained resources and use. We are giving all options thoughtful consideration as we prepare our funding proposal for the Fiscal Year 2013 budget."
The House of Representatives yanked $32m from NASA's budget in the past year. That cash had originally been allocated to give Hangar One its much-needed facelift.
It's understood that Google has paid NASA as much as $2.3m a year for use of the Moffett airfield. ®