This article is more than 1 year old
Learning about chip design from Silicon Roundabout
'Let me through - I'm a nontrepreneur!'
Yesterday would have been the 84th birthday of Robert Noyce - who with Jack Kirby invented the integrated circuit, and who was one of the three founders of Intel.
A day to talk about chips, then.
The high-risk business of designing microprocessors is fascinating: the cost of failure is enormous, many designs fail to set the world alight, and the discipline brings the electronics engineer and manufacturer up against the limits of physics. People with experience of leading microprocessor design often have a good story tell.
There are some opinions of Noyce's work that are may be worth hearing. The opinions of Gordon Moore, Intel co-founder, may be one; Ivan Sutherland, another. Britain's own Steve Furber, another. There are forgotten designers - the Russian ternary makers - from whom we never hear.
And there are some that are less qualified to speak.
A press release plops its way into our inbox this morning, acknowledging the achievements of Noyce and informing us:
Charles Armstrong, technology empresario, founder of Tech City and owner of Trampoline Systems and The Trampery is available to discuss the work of Robert Noyce and how it changed the face of technology.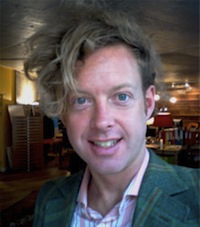 Charles Armstrong
Fascinating. So who is Charles Armstrong, exactly? We trawled through the IEEE journals for relevant technical papers, but drew a blank. He had apparently never made a contribution to the academic literature on circuit design or theory. It was time to quiz the PR agency. What, we asked, makes Charles Armstrong qualified to speak on the subject of Robert Noyce?
Back came the reply:
Trampoline was founded in 2003 by Charles Armstrong, a graduate of St John's College Cambridge. The company grew out of Charles' ethnographic research into social behaviour underlying efficient collaboration, which saw him spend three years living in small island communities.
That's a hell of a gap year - but we were none the wiser. Charles' co-founder at Trampoline does have an engineering background, and worked for Sun. We'd love to tell you what a success it is, but eight years on, Trampoline still claims a small business exemption from filing full accounts at Companies House.
But Trampoline [blog] does claim to have software to "analyse the cluster of businesses by aggregating social network feeds for up to 10,000 people working in East London". Adding: "The prototype only includes 80 businesses but it can already generate analysis on the relative influence of each one and link them by the similarity of their interests."
Brilliant. Noyce would have been envious.
And Armstrong founded "The Trampery" which bills itself as "a new kind of working environment designed to support a new generation of creative enterprises". It's really a squat that charges for use of the fax machine, and closes at 6pm.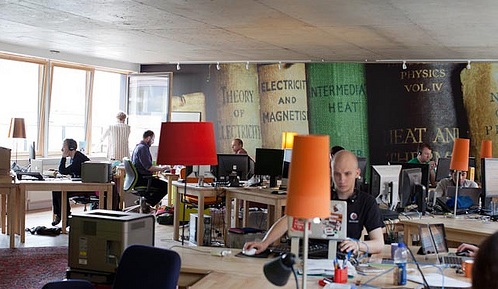 The Trampery
Again, you wonder what Noyce, Moore and Grove were doing wasting their time founding Intel, when they should really have been setting up "co-working spaces".
And here you can spy on Charles hectic social diary - packed with parties and networking events - of the air-kissing, rather than switched-packets variety. Here he is with Prime Minister David Cameron: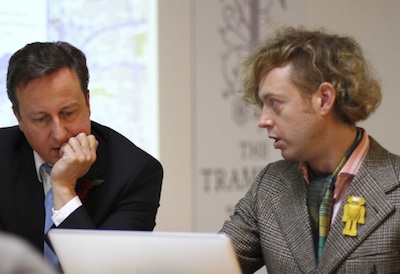 And here is impressing Prince Andrew: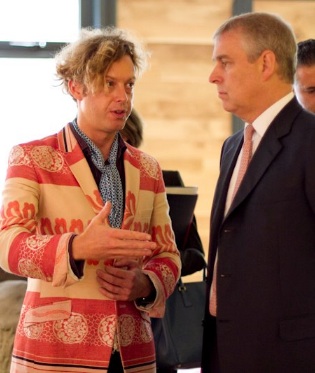 We further asked the PR company about one pesky detail. How could somebody could "found Tech City", since "Tech City" is a brand exercise that belongs to the taxpayer-funded quango, UKTI. Did this mean he was the first entrepreneur in the area, or what? We're still waiting for a reply from the agency.
Meanwhile, marvel at the UK's bleeding edge engineering entrepreneurs - or at least No. 10's idea of what a technology entrepreneur must look like. ®
More like real life than real life:
The Register Guide to London's Silicon Roundabout Tech Startups