Pic The so-called Cosmic Cannonball, a neutron star moving at over three million miles an hour, has been captured in this new satellite image - or at least the red rose of supernova remnant that encases it.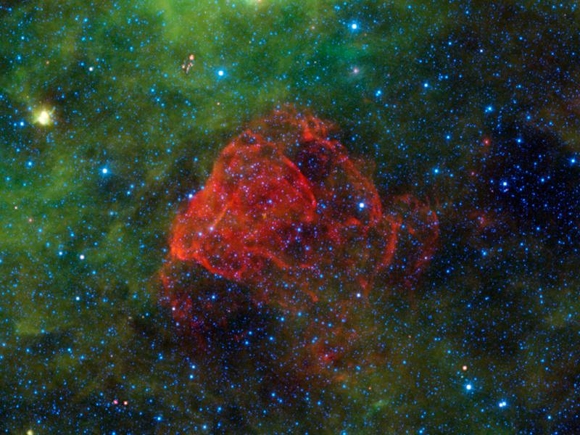 Puppis A supernova remnant captured by WISE. Credit: NASA/JPL-Caltech/UCLA
NASA's Wide-field Infrared Survey Explorer (WISE) snapped this shot of Puppis A, the remains of a supernova explosion that happened around 3,700 years ago. The expanding shockwaves from the explosion are heating up dust and gas clouds, causing them to glow red in the infrared camera's sights.
The star-ending supernova also left behind a dense mess of material called a neutron star, the part of Puppis A that astronomers call the Cosmic Cannonball.
Star-gazing boffins are mystified as to why the neutron star, which is too faint to be seen in the photograph, is travelling so fast - hence the nickname.
The green field around the red rose of Puppis A is the remnant of an even older supernova event, Vela, which happened about 12,000 years ago and was four times closer to Earth than Puppis A.
"If you had X-ray vision like Superman, both of these remnants would be among the largest and brightest objects you would see in the sky," NASA said. ®
Similar topics