Sound ideas
It's running a decidedly so-so 806MHz processor backed by 512MB of RAM and is noticeably slower than its larger cousin – not disastrously slow, but speed bunnies may find themselves getting a bit frustrated by the extra second or so it takes to open an app. RIM has now put a song in the heart of its popular BlackBerry Messenger Service with BBM Music, a free app which allows you to create and share playlists with your mates, Spotify-style.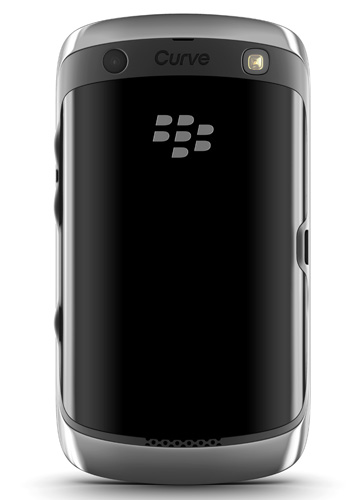 5Mp stills but no HD video, just VGA
There are limits though. From the millions of tunes available, you get to choose just 50 tracks of your own to carry around on your phone, but you can then add 50 more from each of your friends to build up a sizeable library. The more friends you have, the more tunes you can carry, and you can swap 25 tracks from your own playlist each month.
After a 60-day free trial it costs £4.99 a month but while it's an interesting idea to boost usage, it's frustrating in practise, simply because you can't choose exactly which tunes you want.
The browser performance is acceptable, if a little slower than you'll find on more expensive handsets, and the screen's pinch-to-zoom was generally smooth. Text flows well on most pages but there's no support for Flash video.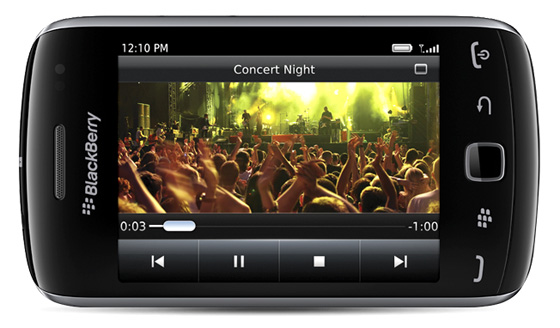 The fairly low-res 3.2in screen is adequate for occasional video viewing
The 5Mp camera features include an LED flash, face detection, geotagging and macro mode. As is the norm on BlackBerry handsets these days, picture quality is pretty good even on the automatic settings, delivering clear, sharp images with a decent level of detail. Quality drops to 640 x 480 pixels for video but it's good enough to get away with for YouTube clips.
Call quality is fine, though the speaker is perhaps just a wee bit on the tinny side – it is a lower end phone after all – but not bad enough to be a deal breaker. There's only 512MB of RAM on board and you have up to 32GB of storage with a microSD card. Battery life held up reasonably well but not spectacularly so, delivering a comfortable day's worth of fairly heavy use.
Verdict
The BlackBerry Curve 9380 betrays its lower end leanings with a fairly low resolution screen and underpowered processor, but it's got a decent camera and messaging capabilities. The lack of content on BlackBerry App World will be a frustration for some however. While it will make a welcome upgrade for existing BB fans, the Curve 9380 hasn't really enough on offer to distinguish it from similarly priced Androids. ®
More Smartphone Reviews

Samsung
Galaxy Note
Motorola
Razr
Nokia
Lumia 800
Samsung
Galaxy Nexus
Apple
iPhone 4S

RIM BlackBerry Curve 9380 with BBM music
Midrange touch screen BlackBerry with the latest OS and 5Mp camera.