Paul Allen latest plan: Space rockets on MEGA PLANE
This one's definitely not made of spruce, though
Billionaire Microsoft co-founder Paul G Allen has set foot down a path trailblazed generations ago by another eccentric business kingpin: he intends to build the biggest aircraft ever flown. However unlike Howard Hughes' monster "Spruce Goose" 1940s flying boat, Allen's plan appears at least feasible and he has some big names on board.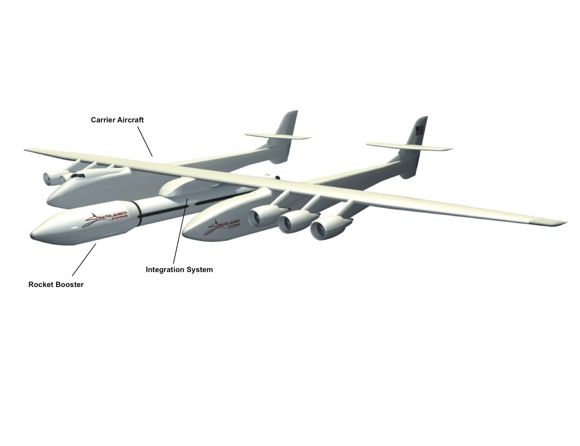 OK, so it's basically two jumbo jets stuck together with a space rocket in the middle.
The scheme is the well-known one of using a jet aircraft high in the stratosphere as a launch platform for a rocket to carry payloads into space. This is already being done - and was used as a means of deploying anti-satellite weapons back in Cold War times - but Allen intends to scale up the concept massively, using a colossal aeroplane to lift bigger rockets than any before launched in mid-air and deliver much larger cargoes to orbit - perhaps one day, even manned spacecraft.
Allen is of course well known, not only for making billions at Microsoft and for having a yacht with two helicopters and a submarine on it, but as patron of the famous Ansari X-Prize-winning SpaceShipOne rocketplane. SpaceShipOne, designed by legendary aviation pioneer Burt Rutan of Scaled Composites, was carried up to launch height aboard the White Knight carrier jet to make its suborbital flights and capture the world's imagination. SpaceShipTwo passenger-carrying versions are now being developed to carry paying customers on suborbital zero-G joyrides (though they are now several years late).
"I have long dreamed about taking the next big step in private space flight after the success of SpaceShipOne – to offer a flexible, orbital space delivery system," said Allen in tinned quotes announcing the new "Stratolaunch" plans yesterday. "We are at the dawn of radical change in the space launch industry. Stratolaunch Systems is pioneering an innovative solution that will revolutionize space travel."
Under Stratolaunch, Scaled Composites will design an enormous successor to the White Knight and WhiteKnightTwo motherships. This brobdingnagian, twin-hulled air leviathan will use six jumbo jet engines and carry a massive two-stage space rocket up to launch altitudes of 30,000 feet. It will be the largest aircraft ever flown with gross weight of 1.2 million pounds (544 tonnes - a trifle less than a fully loaded Airbus A380 superjumbo) and will finally surpass the Spruce Goose's 319 foot wingspan - the Stratolauncher plane will be no less than 385 feet wide.
Rutan is on board with the Stratolauncher scheme, though one should note that the veteran engineering legend recently retired from Scaled Composites and he may not be supervising the plane's development closely.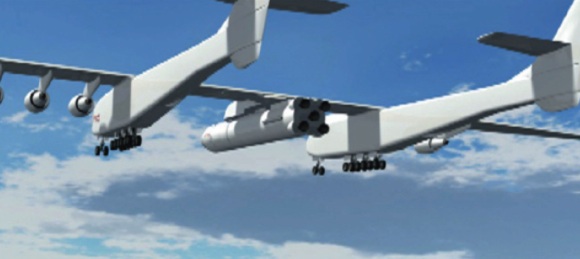 Biggest air-launched missile ever
Meanwhile the rocket to be carried by the mighty jet is to be provided by the famous firm SpaceX, helmed by techbiz visionary and PayPal hecamillionaire Elon Musk, which is currently overturning the existing rocket biz with its new cheap kerosene-fuelled launchers. Stratolaunch says that the jet-carried rocket will be "derived from the company's Falcon 9 rocket", offering the exciting prospect of payloads improved over the Falcon 9's ten tonnes to low orbit. However Stratolaunch claim only 13,500 pounds (only 6 tonnes), and concept graphics indicate that the new rocket will have only five first-stage engines rather then the Falcon 9's nine.
On the face of it this might seem to indicate slightly questionable economics for Stratolaunch compared to ordinary Falcon rockets. Customers will save on the cost of four Merlin rocket engines, but this wouldn't on the face of it seem likely to deliver savings sufficient to compensate for the loss of 40 per cent of a Falcon's payload - even without considering the costs of the massive jet mothership.
That said, the prospect exists of Stratolaunch surpassing its initial payload figures - Allen seems confident that in time the system will be capable of manned launch, which would mean a need to deliver more than six tonnes to orbit. Then, aircraft launch offers various unique advantages such as the ability to largely ignore weather conditions on the ground, more choice on orbits and much easier compliance with range safety requirements.
No matter what, with Allen's billions behind it plaus SpaceX and Scaled on board to handle the technology, the Stratolauncher scheme seems likely to produce some spectacular flying hardware at the very least - and may indeed as its founder hopes deliver re-usable first stage manned launch down the road. it's definitely one to watch.
There's more from Stratolaunch here. ®