Amateur balloonists conquer Atlantic
Mighty globe flies from Silicon Valley to the Mediterranean
---
A group of US balloonists have achieved the first amateur transatlantic meteorological balloon crossing, with an epic three-day flight from California to the Mediterranean.
The California Near Space Project (CNSP) unleashed four balloons from Silicon Valley on Sunday night. Two were standard high-altitude attempts, which burst at around 125,000ft and landed in western Nevada.
The other two were "floaters" - filled with sufficient helium to reach a pre-burst altitude and then wander with the wind. The first, call sign K6RPT-12, appears to have given up the ghost over Indiana, but the second - K6RPT-11 - continued eastwards across the continent and out over the Atlantic.
Radio enthusiasts in Nova Scotia tracking the balloon via the APRS system lost contact yesterday morning, and it wasn't until 11 hours later that K6RPT-11 reappeared advancing on the Azores.
By this morning, the balloon had traversed southern Spain, and was en route to Italy: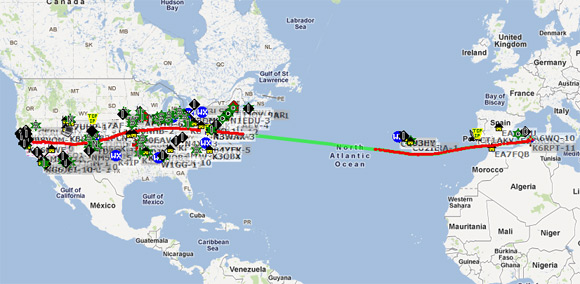 Its current location can be followed on aprs.fi, and it remains to be seen if it does make Italy before its transmitter's battery dies. ®