In a scene that could have been written by Douglas Adams, a Foo Fighters gig in Auckland in quake-prone New Zealand has shown up on seismic monitoring stations.
New Zealand's geological hazard monitoring system GeoNet described the signal from the band (and its 50,000-strong audience) as similar to volcanic rumblings.
GeoNet revealed that two seismic stations which are 1.5 and 2 km away from the from the location of the concert, in Western Springs, recorded a strong low frequency signal during the event.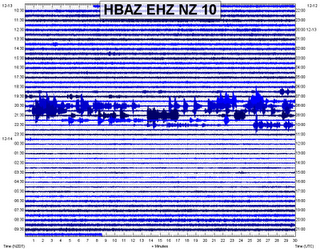 Source: GeoNet
GeoNet reports that the ground was shaking "in a nice rhythmic motion" three times per second. "The concert vibrations were recorded as a semi continuous harmonic signal with a peak osculation of 3 Hz," the GeoNet blog states.
Jack Black's Tenacious D kicked activity off, as support band and earth warmer, contributing to the first vibrations which were recorded around 7:30pm, part way through the set.
"The biggest activity erupted at 8:20pm when the Foo Fighters took the stage, and then it all went quiet at 11pm when the gig ended," GeoNet reveals.
GeoNet believes that that cause of the tremors was not only a muscular sound system but the weight of the 50,000 fans dancing - a 5,000 tonne mosh-pit hammering the ground for the duration of the concert.
"The sound system probably contributed as well, especially the bass frequencies coupling in to the earth. The signal is similar to volcanic tremor that is recorded at places like Mt Ruapehu and White Island, however the strong correlation in time with the Foo Fighters concert and the fact it was only recorded on the two stations close to Western Springs assured us it was of man-made origin," GeoNet confirmed. ®