Lloyds TSB's online banking and cash machines went down this morning due to network server cutting out, the Register has been told.
"The whole network server stopped running between 9 and 10.30am" a branch worker told us. Reports from readers and a test in the office showed that though the Lloyds website has been up and running the whole time, any users who logged in were served with a "service unavailable" message.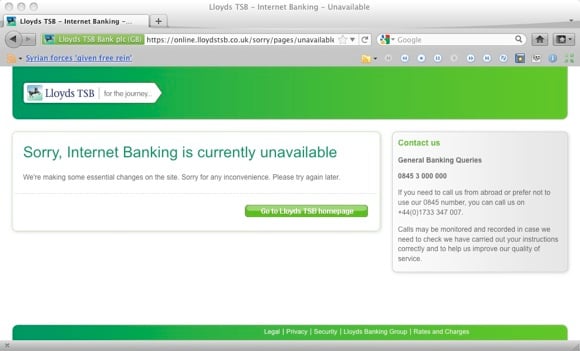 The service unavailable screen that met Lloyds TSB customers trying to log into online banking this morning
Reports on Twitter that Lloyds cash machines got taken down too were confirmed by Lloyds customer services who told us that their cash machines had been out earlier that morning, though they should be back with one or two exceptions. A cash point in central London still seemed to be down at about 12.30pm.
Lloyds customers on Twitter expressed their frustration with the service, and the lack of information available.
@kassy4 said: bastards! all my bank cards are lloyd's too. Good thing I have food, or i'd starve! #lloyds
@delldells82 asked: do you know what is happening with lloyds tsb? systems are down no real information from them
A spokeswoman for Lloyds said: "There was an issue this morning for about an hour" but that services are now resumed. She said she wasn't aware of any issues with cashpoints.
"I'm not aware of that, but I would have been told if there had been a glitch."
One Reg reader emailed in to say he'd been having troubles with Lloyds online banking for three days. However, the spokeswoman said that the only outages she was aware of had taken place this morning. ®