Asus Zenbook UX31E
The finest Ultrabook on the market?
---
Review I honestly thought it would take the industry a lot longer to start producing Windows Ultrabooks for under a grand that are this good. The Asus Zenbook is as flat and skinny and as light as a MacBook Air without trying to look like one, and is a darn sight better connected.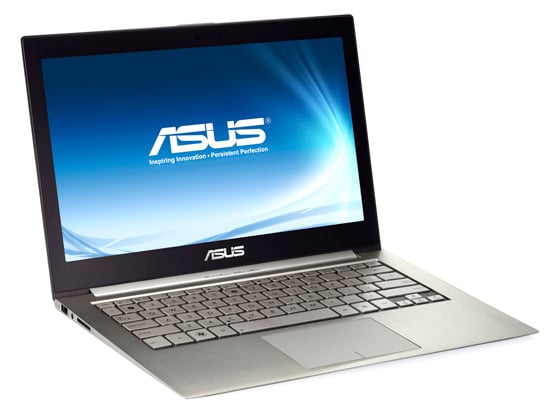 Smart notebook in size zero clothing: Asus Zenbook UX31E
The Zenbook comes in 11-inch and 13-inch versions: the UX31E tested here is the larger and more expensive of the two kitted out with a 128GB SSD, 4GB of RAM and sporting a 1.8GHz dual-core Intel Core i7-2677M CPU.
The case is built from what looks like two-tone brushed aluminium, the lid appearing darker than the base due to its circular rather than linear brushed finish. The press release describes this top-surface finish as "a concentric circle design that refracts a halo of light that excites the senses". Oh lordy.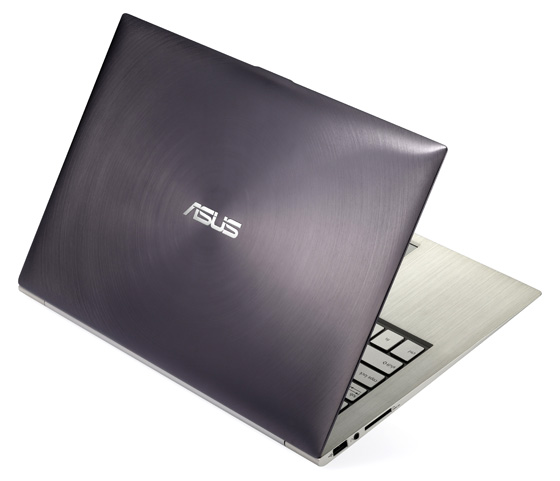 The refraction effect of the lid is supposed to 'excite the senses'. I expect you're feeling frisky just looking at this photo.
Similar to some other Ultrabooks – such as the recently reviewed Acer Aspire S3 – the Zenbook is gently wedge-shaped: the UX31E is about 17mm thick at the rear hinge and just 3mm at the front edge. The edges of the lid and base are flush on the sides and front, which naturally makes them appear sharp when the case is opened. They're not sharp enough to cut you, but I can attest that they are sharp enough to scrape away the top surface of your fingernails, should you be so inclined.
Opening the case is a bit fiddly because there's no clasp or catch, nor a recess to stick your thumb into, just a 0.5mm overlap to grip on to. However, with the Zenbook on a desktop, it's possible to lift open the lid fully without the base tilting back – beautiful.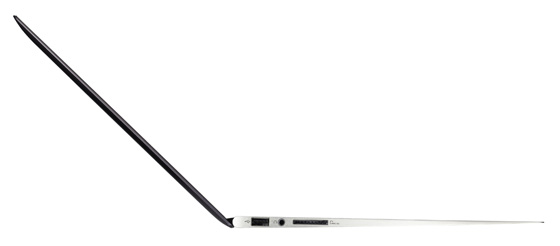 No kidding, this is an extraordinary piece of impossibly thin hardware design
The 13.3in, 1600 x 900 display is crisp and clear, even in its slightly dimmed 'battery saving' mode, and the bezel - whose grey plastic rather disrupts the brushed aluminium finish everywhere else - is untypically narrow at roughly 16mm on either side.