Star-gazing boffins using the European Southern Observatory's aptly-named Very Large Telescope have discovered that supermassive black hole Sagittarius A is about to chow down on a huge gas cloud.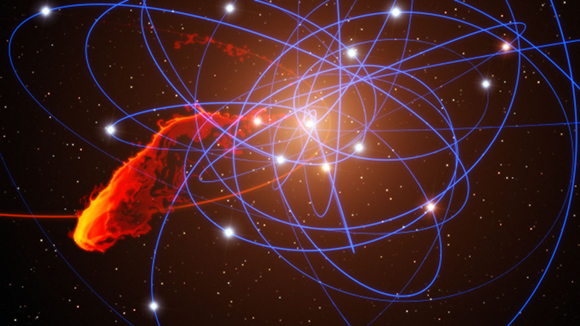 Simulation of gas cloud after close approach to the black hole. Credit: ESO/MPE/Marc Schartmann
The cloud, which is several times the size of Earth, is accelerating fast towards the maw of the black hole at the centre of the Milky Way - the first time that a supermassive black hole's gaseous dinner has been observed.
The space researchers have been staring skywards for 20 years to monitor the movement of stars around the black hole and have noticed that in the last seven, the cloud's speed has almost doubled to eight million kilometres per hour as the black hole hoovers it up.
"The idea of an astronaut close to a black hole being stretched out to resemble spaghetti is familiar from science fiction. But we can now see this happening for real to the newly discovered cloud. It is not going to survive the experience," said Stefan Gillessen of the Max Planck Institute for Extraterrestrial Physics, the lead author of the paper.
The cloud is on course in its elongated orbit to pass the event horizon of the black hole at a distance of around 40bn km, or 36 light-hours, which is an extremely close encounter in astronomical terms.
At the moment, the density of the gas cloud is much higher than the hotter gases around the black hole. But as it gets closer, external pressure will compress the cloud while the huge gravitational pull will suck it in, stretching the cloud along its orbit.
The edges of the gas cloud, which is cooler than the surrounding stars and made up mostly of hydrogen and helium, are already starting to fray from the strain of its proximity to the black hole, and it is expected to disintegrate entirely over the next few years.
The cloud will also start to heat up as it gets closer to the event horizon, causing it to give off X-rays.
At the moment, there's not much for the supermassive black hole to 'eat', so the cloud is likely to provide it with fuel for the next few years.
The full research on Sagittarius A's dinner will be published in Nature on January 5. ®