Dell flees netbook market, dumps Minis
Long live the ultrabook, right?
---
Dell has pulled out of the netbook market in a move that pretty much seals the fate of the pint-sized form factor. The Dell Mini range is no longer available on the website and the tech titan's US office has confirmed that the product line is dead.
First announced in 2008, Dell Minis had 7in or 10in screens, were powered by Intel Atom processors and, along with offerings from Samsung, Asus and Acers, were key products in the netbook market.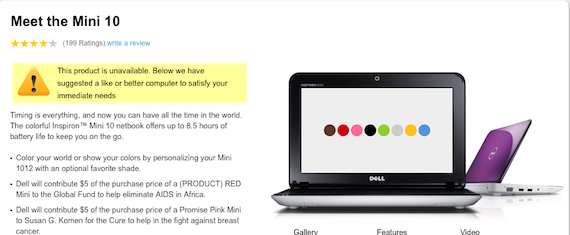 The Mini appears to have been discontinued on Dell's US site
Samsung is also rumoured to be ditching its netbooks according to an email sent out to distributors a few weeks ago.
Dell Mini mourners filled up the mydellmini forum with tales of the great times they'd had with their small computers, but the market is likely to move on fast and ultrabooks are seen as the next growth area for PCs; Samsung and Dell have already brought out new MacBook Air-style ultrabook ranges.
It could spell the end for Intel's Atom processor, the silicon that most of the netbooks pack. ARM-compatible chips are more popular for tablets and other portable kit because of their low power consumption, but Intel are attempting to carve out a niche for themselves by making low-voltage chips specially for the ultrabook form-factor.
It will be interesting to see what else Dell will offer in the £300-400 price bracket. Currently, the company is pushing a slender 1-inch thick Inspiron 11z Ultralight Laptop as an alternative on the product page for the Mini, but it's possible it will start to produce cheap tablets for that price bracket. ®