The Google Review: Now Speak Your Brains
Opt in for your rights
---
If you ask nicely, we'll give you your rights back
What's new is that the Government also wants comments on something that hardly featured in Hargreaves at all - and hasn't been part of the public debate - a copyright registration system.
Under international treaties, you own your stuff, you say how it's used, and these rights are is automatic - you don't have to sign up to any creator's rights members club. An Extended Collective Licensing regime turns these rights and obligations upside down. Creators would have to opt-out of an ECL system. A work not covered by ECL becomes an orphan (heads you lose, tails we win).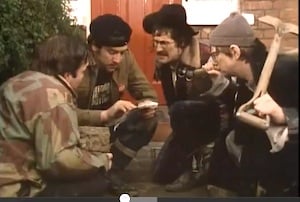 Creating the consultation paper was a intense collaborative exercise
Whitehall-watchers say ECL is the personal crusade of the IPO's top ideologue Ed Quilty, who privately floated the idea of opt-in copyright registration two years ago, but was rebuffed. He has seized upon Hargreaves as a Trojan Horse for ECL and has been doubly-blessed: the BIS minister responsible Baroness Wilcox - who provides a foreword to the consultation - hasn't got a clue what is going on, or what the implications might be. It's also a stealth project - ECL was omitted from the Executive Summary that only hurried politicians and the media ever read. Since this augurs the biggest break in copyright law for a century - and has huge policy implications for UK - you'd think it would merit some debate.
Amateurs should be as alarmed, if not more so, than professional creators about the consequences of market destruction - if you've ever posted a photo to Flickr, you should take note. There's a good layman's discussion here. It concludes:
…in sectors where an ECL scheme is imposed, authors will lose the right to control the use of their works unless they take the steps required for them to opt out. Otherwise their works may be used commercially without their authorisation. They may also be used in ways that are distasteful to the author, damage his or her reputation, or injure the future market for the work. What is currently being proposed is the mass appropriation of private intellectual property, much of it belonging to the original creators, and its licensing to commercial corporations, with archives and libraries that hold copies of the originals receiving inducements to participate.
[emphasis added]
In other words, the state is stealing your stuff for the 'common good'. Don't say you haven't been warned.
Finally, you can begin to get an idea of how much of Hargreaves was written by the IPO, when you read the proposals to vastly expand the scope of …. the IPO itself. This is enthusiastically endorsed by the consultation paper: "more for us to do, please", it says, "how big do you want the IPO to be?". (We paraphrase). There's a problem with this in that the IPO, which nominally has the job of bringing clarity to IP issues, and supports IP-based businesses, instead brings confusion and finds ever more ingenious ways of screwing them.
But this kind of mission creep is what happens when you invite bureaucrats in to help with the typing. ®
Related Links
The Consultation closes in 14 weeks.