Microsoft will beat Linux clouds at their own game - with open source
Developers, developers, developers, developers
---
Open... and Shut Amazon may dominate public cloud computing, but not amongst the Microsoft groupies. Microsoft has managed to be an end-to-end cradle-to-grave supplier within the data centre, and is attempting to extend this motherly embrace to the cloud with its Azure platform.
Cracks have recently begun to show in this strategy, however, as Microsoft increasingly turns to open-source technologies like Hadoop to spice up Azure.
Is this a stopgap strategy or a sign of a more open Microsoft cloud?
The signs point to the latter, as Microsoft reaches beyond the Redmond talent pool to make Azure more appealing to the broader developer population. Microsoft's devoted customers, after all, haven't been the fastest moving on cloud adoption.
According to 2010 survey data by Dr Dobb's Journal, whose readership skews toward Microsoft IT professionals, a whopping 91.4 per cent of those surveyed are not deploying to the cloud. This, of course, sharply contradicts with just about every other analyst report on cloud adoption (such as Morgan Stanley Research's cloud adoption report - warning: PDF), as does the finding that Microsoft Azure is tops among those deploying to the cloud.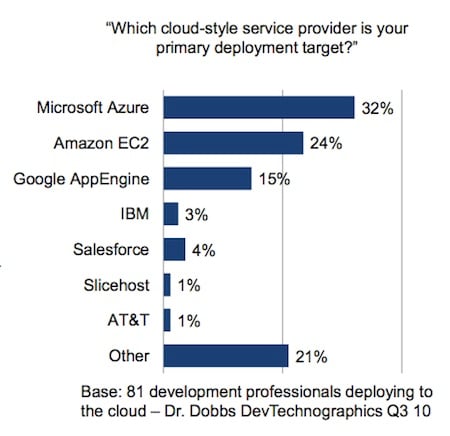 If they do go cloud, Microsoft IT pros pick Azure
Perhaps in Redmond, but not anywhere else.
This is not to say that Microsoft hasn't built a compelling Platform-as-a-Service cloud in Azure. It has, and one that competes very well against Amazon Web Services in key areas, while trouncing other would-be cloud providers, according to recent findings by Nasuni. But while cloud adoption has moved beyond the early adopter elite, it still has a way to go before clouds power mainstream workloads for risk-averse enterprises, which are Microsoft's bread-and-butter.
Microsoft, of course, is not alone in this, as my Nodeable colleague Dave Rosenberg points out. But Microsoft potentially has the most to lose, because it has had such a lock on a wide swath of the developer population for so long.
In the meantime, Linux and other open-source technologies drive the cloud, with 2012 promising to accelerate this trend, as Ostatic points out. This is impressive, as I can remember hearing from Amazon and Rackspace back in 2010 that Linux (and particularly Ubuntu) dwarfed Windows as a guest OS on their respective cloud offerings. If that continues apace, Microsoft will see its Windows cash cow evaporate.
Hence Microsoft's recent moves to embrace node.js, MongoDB, and Hadoop as part of its Azure cloud offering. Despite early Azure interest from its rank-and-file users, Microsoft needs to move beyond its substantial customer base to attract a new breed of cloud developer. Over time, Microsoft will almost certainly stitch together an end-to-end, Windows-centric cloud experience that will win over its slower-moving installed base, which will translate into billions more in profit.
But for the moment, Microsoft risks losing out to Linux for next-generation applications/workloads unless it can make open-source technologies first-class citizens on Azure.
This battle isn't about who is cheaper or which cloud is more scalable. It's about who offers the next generation of cloud developer the tools they need to get productive fast; and those tools are overwhelmingly open source. Microsoft has decided to embrace this, rather than fight it.
Developers are the new kingmakers, and they want open source. Microsoft wants to remain king, and hence must embrace open source. It's really that simple. ®
Matt Asay is senior vice president of business development at Nodeable, offering systems management for managing and analysing cloud-based data. He was formerly SVP of biz dev at HTML5 start-up Strobe and chief operating officer of Ubuntu commercial operation Canonical. With more than a decade spent in open source, Asay served as Alfresco's general manager for the Americas and vice president of business development, and he helped put Novell on its open source track. Asay is an emeritus board member of the Open Source Initiative (OSI). His column, Open...and Shut, appears three times a week on The Register.