Wide-eyed
I've tested the camera with the Nikon 1 Nikkor 10mm f/2.8 wideangle pancake lens – equivalent to 27mm on a 35mm camera. This is one of four lenses currently available with the Nikon 1 mount. Despite being very light and flat the lens feels extremely well built and delivers great optical results with virtually no aberrations.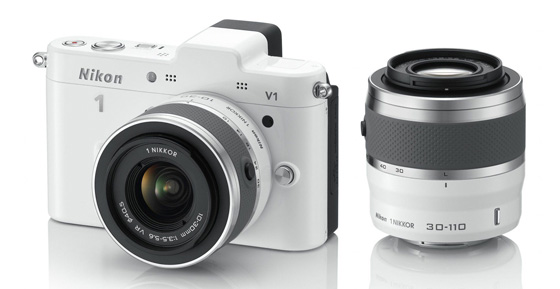 Also available in white: V1 with 10-30mm and 30-110mm lens kit
The V1 also offers Full HD 1080p video recording at 30fps or 60fps in MPEG4 format, with additional 400fps and 1200fps for slow motion effects. Video recording is activated from a dedicated movie-recording button on the top plate and benefits from full manual control and continuous AF during shooting. Footage looks smooth and the sound is clear and rich.
The EN-EL15 7V battery might be chunky and rather heavy but performs well, with a rating of 400 shots per charge – almost double the shooting capacity of EN-EL20 featured on the J1.
Arguably, the choice of a smaller sensor might alienate some enthusiastic users, whilst the no-frills approach, dead-easy operation and image quality may well tempt the regular compact user. Simplicity aside, I feel that this camera should not be sneered at by the more advanced photographer.
After all, with its professional shooting speeds, ingenious, innovative and, above all, photographically relevant technology married to a picture quality that fares well with the competition, the V1 should appeal to the enthusiast and discerning photographers alike.
Verdict
I personally loved this camera and feel its superior build quality, distinguished personality and excellent image output will turn a few heads. Despite its high price, which does impact on its overall rating here, no doubt it will bite into the sales of other already established compact systems from the likes of Olympus, Panasonic, Samsung and Sony who have all shown their take on compact mirrorless models for over a year and then some. ®
Catherine Monfils is a professional photographer specialising in portraiture, lifestyle and fashion.
More Camera Reviews…

Nikon
One J1
Olympus
PEN Mini
E-PM1
Sony
Alpha SLT-A35
Leica
X1
Fujifilm
Finepix X100

Nikon 1 V1 interchangeable lens compact camera
Hybrid mirrorless compact camera with an EVF and mechanical shutter on-board and featuring a new mid-sized sensor format plus a range of interchangeable lenses.
Price:
£880 (10mm pancake lens), £830 (10-30mm lens), £980 (10-30mm and 30-110mm lens) RRP