In what is turning out to be one of the best months ever for black-hole fanbois, a team of Dutch, Italian, and US space boffins has detected the "heartbeat" of what appears to be teensiest, weensiest black hole ever discovered.
"Just as the heart rate of a mouse is faster than an elephant's, the heartbeat signals from these black holes scale according to their masses," said University of Amsterdam's Diego Altamirano, referring to the newly discovered IGR J17091-3624 and a similar object, GRS 1915+105.
While GRS 1915+105 is a black-hole pipsqueak with a mass only 14 times that of our sun, IGR J17091-3624 is tinier still, estimated to be a mere three times as massive as Ol' Sol, a size that is close to the theoretical "mass boundary" at which the formation of a black hole becomes possible.
Compare those anorexic celestial bodies to the supermassive black hole discovered early this month, which is 10 billion times as massive as our li'l sun. Or, for that matter, to the two other black holes that turned up this month, one busily slurping a gas cloud and another being born.
The "heartbeat" to which Altamirano was referring is the X-ray pattern emitted by the binary system that includes the pint-sized black hole – it gets that nickname because of its resemblance to an electrocardiogram of a heart at work. GR J17091-3624 and GRS 1915+105 are the only such systems yet discovered that evidence this pattern.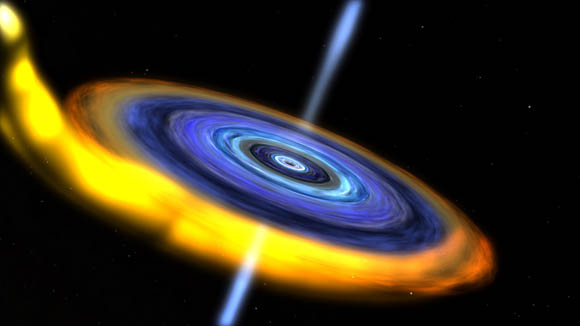 No this isn't a photo – it's an artist's take on X-ray emissions from a "heartbeat" black hole (click to enlarge)
The beating of J17091-3624's heart is caused by intermittent X-ray bursts as gas is sucked from its companion star and forms a disc around the black hole, where it's heated by friction to millions of degrees, hot enough to emit X-rays. The variations in these emissions, scientists believe, take place at the black hole's event horizon.
"We think that most of these patterns represent cycles of accumulation and ejection in an unstable disk, and we now see seven of them in IGR J17091," said Tomaso Belloni of the Brera Observatory in Merate, Italy.
The black-hole boffins have identified 12 such variations in GRS 1915+105, which typically last between seconds and hours. "Identifying these signatures in a second black hole system is very exciting," said Belloni.
The system's heartbeat was recorded by the ever-reliable Rossi X-ray Timing Explorer (RXTE), a satellite that was launched in December 1995. RXTE was designed to have a lifetime of two years, although the scientists working with it had hoped it would last for for five. Needless to say, they underestimated its durability.
Tod Strohmayer of NASA's Goddard Space Flight Center and RXTE's project scientist is understandably jazzed about his geriatric satellite's discovery. "Until this study," he said, "GRS 1915 was essentially a one-off, and there's only so much we can understand from a single example. Now, with a second system exhibiting similar types of variability, we really can begin to test how well we understand what happens at the brink of a black hole."
Exactly where that brink is remains in doubt, however. While RXTE and other space missions have poinpointed J17091-3624's coordinates – it's in the direction of the constellation Scorpius – its distance hasn't yet been nailed down, with the best estimates ranging from 16,000 to over 65,000 light-years.
Thorough study of the two "heartbeat" binary systems has just begun – expect more news to come as further work is done by RXTE, NASA's Swift satellite and the European Space Agency XMM-Newton orbiting observatory. ®
Similar topics