This article is more than 1 year old
Belkin LiveAction Camera Grip
Get a grip….
Geek Treat of the Week Hats off to Belkin for coming up with some really neat iOS-oriented gadgets just lately. Following on from its kitchen stands for the iPad, it has now come up with some handy little photographic accessories for the iPhone. The first one to arrive is the LiveAction Camera Grip, with an external microphone and remote control unit on the way as well.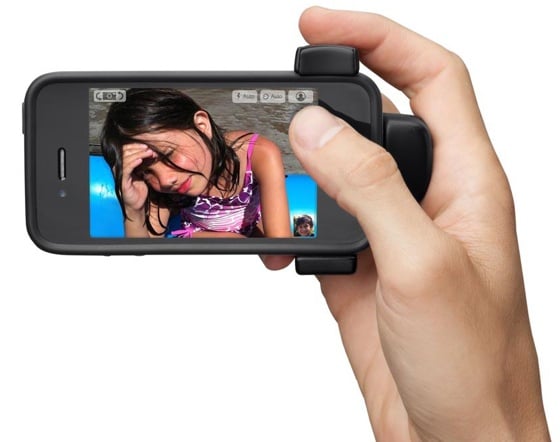 The Camera Grip might seem unnecessary to anyone that just wants to point-and-shoot with their iPhone camera, but the thing I've noticed since getting an iPhone 4S is that the improved clarity of its new 8Mp camera still tends to be marred by the shakiness of my hands when I'm taking pictures. For me, it's the act of tapping on the screen that always seems to shake the shot up.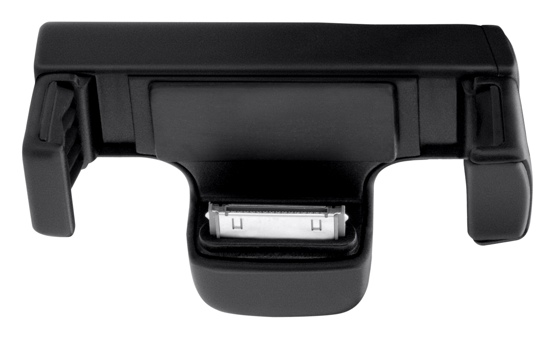 The Grip clips onto your iDevice's dock port
The Camera Grip can help with that by providing a large chunky grip that helps to steady the iPhone, but it has a few other useful features too. The Camera Grip plugs into the dock connector on the iPhone 4/4S and the current iPod Touch.
The arms on the Camera Grip are spring loaded and flexible enough to accommodate most bumper cases, and it has its own control buttons for taking stills and recording video so that you can start shooting while still holding the Camera Grip nice and firmly. There's also a tripod mount on the base of the Camera Grip, which will appeal to more serious photographers.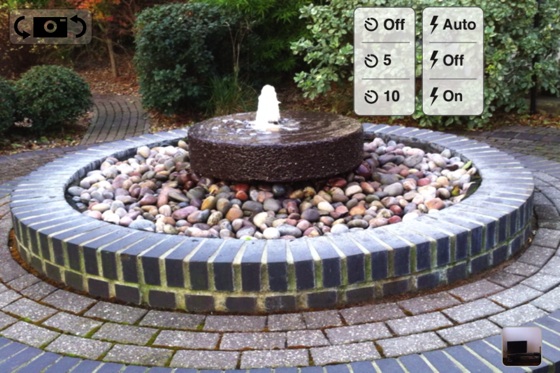 Belkin's LiveAction app taps into the Grip's controls
You need to download the Belkin LiveAction app for those control buttons to work, but you can then hold the iPhone nice and steady and shoot away without ever having to tap on the screen. The LiveAction app can switch between front and back cameras, and has its own flash controls and focus controls, as well as a five- or ten-second timer option that will come in handy if you're using it with a tripod.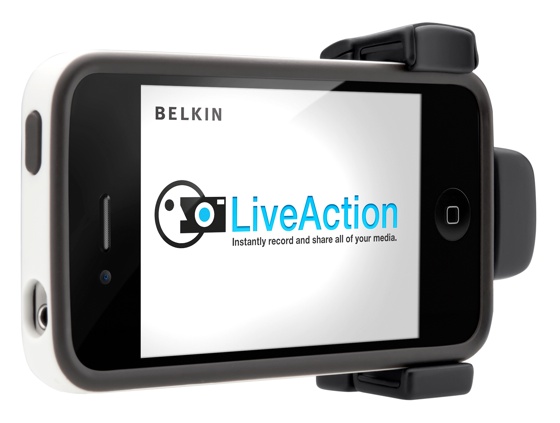 Even works with encased iPhones
The Camera Grip is a bit pricey - it's £45 - but I have found that it's helped me with some of the product shots I need to take for reviews, and will earn its keep if you're serious about using the iPhone as one of your main cameras. ®
Geek Treat of the Week is published every Monday. Got a handy or fun gadget in mind you'd like us to consider? Please let us know
More Geek Treats

Philips
Fidelio
AS851
Silverlit
Spy Cam
Pocket Boom
CableJive
DockBoss Plus
GoPro
HD Hero 2

Belkin LiveAction Camera Grip
An expensive but useful accessory for the more serious i-photographer.