CA handles La Perla's substantial assets
ARCserve backing up bra servers
Luxury Italian undies biz La Perla is protecting its data assets from a tits-up by using CA's ARCserve backup software.
The bra-and-panties business has 3TB of data on 50 servers around the globe and is using ARCserve Backup to safeguard it. The data ranges from email to critical data and business intelligence based on sales figures at points of sale and intranet portals used by retailers and La Perla's major suppliers.
ARCserve Backup uses native functionalities of software tools like DAOS (Domino Attachment and Object Service) of Lotus Domino as well the backup functions of VMware, which was important to La Perla.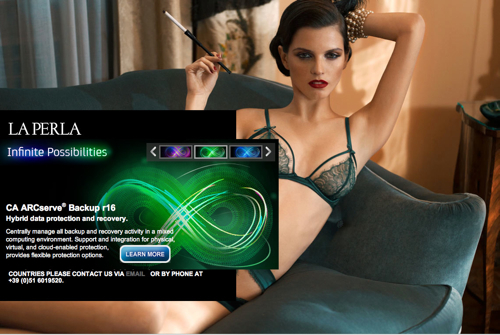 CA ARCserve Backup is backing up La Perla data assets
Its IT infrastructure and safety manager, Mauro Ruscelli, said: "Today - besides our AS400 system which is not involved in these recovery solutions – we have approximately 50 Intel-based servers, with both Windows and Unix. We have adopted a server virtualisation solution based on VMware software and on a blade server connected via NSF to partitions in NetApp devices."
There are two tape libraries storing backup data in La Perla's protection scheme: one with 48 tapes and two drives and the other with 64 tapes and three drives.
Ruscelli said: "Over time, the software we use has evolved … Lotus Domino has introduced the DAOS functionality, which we use on a regular basis to deduplicate email attachments. We use deduplication on our virtualised servers as well. And the data volume to be backed up is now in the range of two to three terabytes."
The use of native functionalities "is the key to fast backup," says Ruscelli. "If we had to back up virtual machines in a traditional way, the process would require days, but since CA ARCserve Backup uses native functions in VMware we can get a snapshot of our machines in just a few seconds, and without any impact on service continuity."
Ruscelli reckons: "This snapshot is immediately available for data recovery, and the slow part of the process - recording data to the tape - can be performed offline without hurry."
He says ARCserve Backup safeguards the manufacturing process, whilst preventing disruption to the supply chain.
There's more information here (PDF).