TalkTalk, 3UK scratched off Ofcom's Xmas card list
Telcos are most complained about ever
It's official: TalkTalk and 3UK had more complaints than any other Blighty-based telcos since communications' regulator Ofcom started publishing its league table displaying the good, the bad and the downright ugly.
TalkTalk is, for the fourth consecutive quarter, the most whinged about ISP.
The company also languished at the bottom of the list for its landline service.
Between July and September this year, Ofcom - which bases its findings on complaints per 1,000 customers to give a like-for-like insight into the level of gripes issued against the UK's four top telcos - said TalkTalk remained on the naughty step.
The regulator received 0.77 complaints from punters unhappy with TalkTalk's landline network, mainly relating to billing cockups and poor customer service. That compared with Virgin Media, which had the least grumbles (0.19) from its customers for the quarter.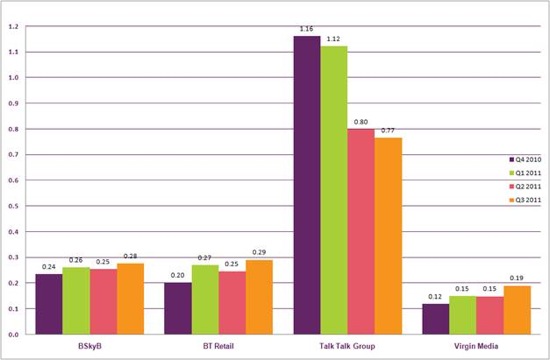 Ofcom's quarterly landline complaints per 1,000 customers
Similarly, TalkTalk generated more complaints about its fixed broadband service than any other telco over the three-month period, with 0.55 gripes per 1,000 customers getting in touch with the watchdog.
Sky and Virgin Media came out equally on top in that survey, with each ISP having 0.19 complaints directed at Ofcom by their respective peeved-off customers.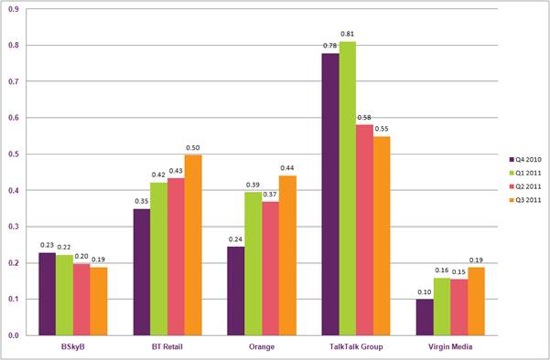 Ofcom's quarterly fixed broadband complaints per 1,000 customers
It's not all good news for Virgin Media, however. Satisfaction among the company's customer base nosedived in November.
Meanwhile, in the less griped about mobile market, 3UK also scored a hat trick - plus a bonus goal in extra time - as the most complained about company per 1,000 punters.
Ofcom said it received 0.14 gripes from 3UK customers compared with a piddling 0.02 about O2, which was the mobile outfit that stayed at the top of the regulator's list.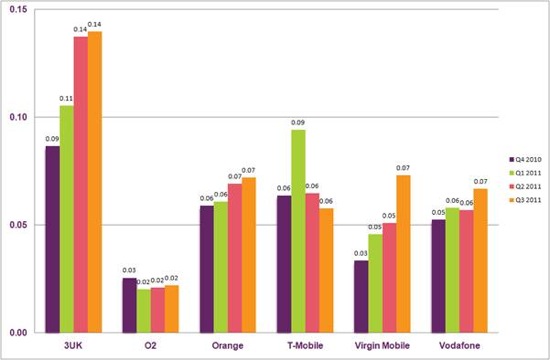 Ofcom's quarterly mobile services' complaints per 1,000 customers
"The complaints against 3UK have been largely driven by complaints relating to disputed charges and customer service issues," said Ofcom.
"There has also been an increase in complaints against Virgin Mobile over the last quarter. This rise also appears to be driven largely by billing and customer service issues." ®