Nissan Leaf battery powered electric car
Yes, you can live with an e-car. We have
---
Fair weather friend
Run with the headlights and wipers on and the range drops again, though by much less. What this means is that a charge will get you further down the road in June than it will in August when it's hot - and much further than it will in January when it's cold, wet and dark, and the solar panel on the tailgate can only serve as a styling accessory.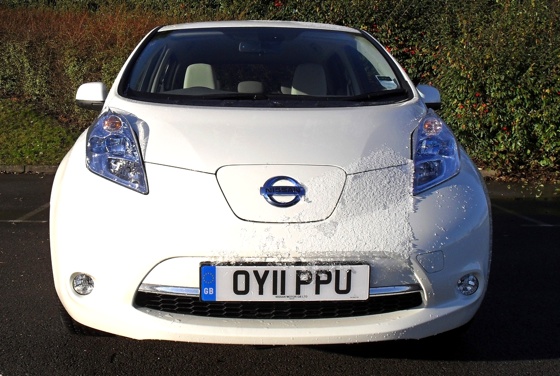 Cold weather is not the long-distance driver's friend
My week of Leafing coincided with the arrival of winter with a capital W in Manchester so the majority of trips involved the heater, demister, headlights and the wipers. The end result was an average range of around 60 miles depending on the amount of motorway driving, which, at a steady 70mph, eats into the charge almost visibly.
An economy-bashing side-effect of the silent motor's 80kW of power and 280Nm of torque is the tendency to creep unawares towards the Leaf's 90-odd top speed on the motorway. In an electric car, cruise control is your friend, especially if you don't want to make enemies of speed cameras.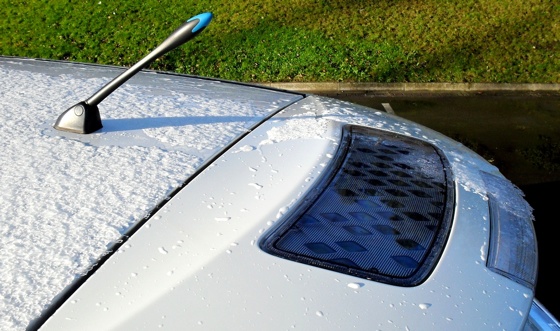 The solar panel is eff-all use in a British winter
To take some of the strain off the battery, the climate control can be launched while the car is still connected to the mains supply using Nissan's Carwings telematics system. In cold weather, this makes a contribution to comfort as well as range, but only adds a couple of miles to the latter.
Lacking the home-charge installation that Leaf owners get, I made do with an industrial extension cord across the garden and into the house through the cat flap. Hardly the perfect infrastructure, but it worked.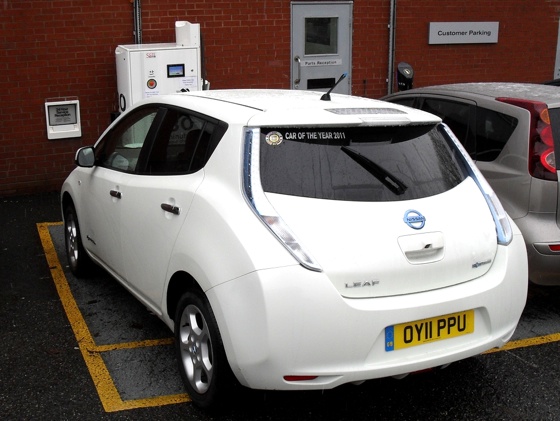 Charging in Stockport in the snow and rain
Compared to the Renault Fluence ZE battery powered e-car I drove recently in Portugal, the Leaf is a little softer in the chassis and suspension. The extra give pays dividends when driving along the rutted, potholed and generally piss-poor roads in Britain's towns, with the Leaf gliding serenely over all but the most vicious bumps.