Nissan Leaf battery powered electric car
Yes, you can live with an e-car. We have
---
Expensive leap of faith
My conclusions? After a week with the Leaf I've come away more impressed than after the two previous occasions I've driven it - both times when I spent hours rather than days behind the wheel. The excellent level of refinement is more obvious after prolonged usage and the supple ride more impressive over roads I know can shake fillings loose.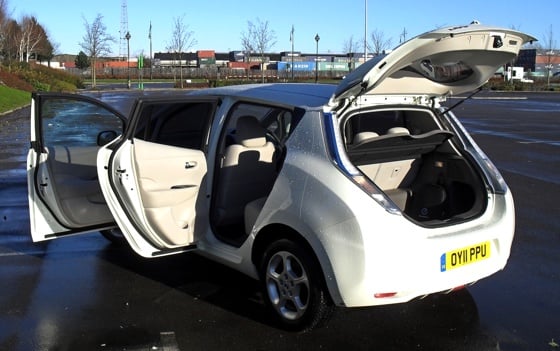 All doors open: the Leaf will carry five and luggage
I'm still not sold on the Leaf's styling, though, and the interior, despite being well equipped, feels a bit cheap compared to the likes of the new Ford Focus or Volkswagen Golf. I've said it before: it all looks and feels a bit too American, and in cars that is not a good thing.
Some of you may well be frothing at the mouth wondering how I can rate the car so highly when the range I got was so badly affected by the weather. Well, I wouldn't buy one to do the sort of driving I actually did, nor would I suggest that you do. The Leaf is a second, town car and must be judged as such.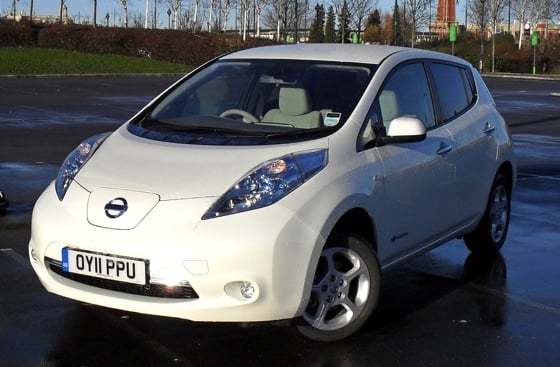 Runs smoothly over Britain's pothole-plagued roads
At its intended role, it's very accomplished, even in sub-zero conditions. At the end of the week, it did everything I asked of it without me changing my driving style or making too many compromises other than getting chummy with Nissan staff across the North West and sampling the delights of Halifax.
All that said, of course, compared to the electric cars from Nissan's sister company, Renault, the Leaf still represents a rather expensive leap of faith.
Unlike Renault, which will sell you the car for £17,850 but lease the battery, Nissan is selling the whole kit and caboodle for £25,990 - both figures after the UK's £5000 e-car grant. That won't be an issue for wealthy early adopters who, I suspect, won't lose sleep over possible battery degradation in six or seven years' time. But for the rest of us, Renault's separation of car and power-pack may prove the wiser option. ®
More Car Reviews

2011's Best...
cars
Toyota
Yaris
Peugeot
iOn
Smart
Fortwo
Fiat 500
TwinAir

Nissan Leaf battery powered electric car
Pricey, but a surprisingly good second, town car.
Price:
Price: £25,990 after £5000 government e-car incentive RRP