Three more 'nauts prepare for space station housewarming
Crew blasts off tomorrow in time for weightless Xmas
The second half of the International Space Station's Expedition 30 crew is getting ready to blast off tomorrow to dock with the station in time for Christmas.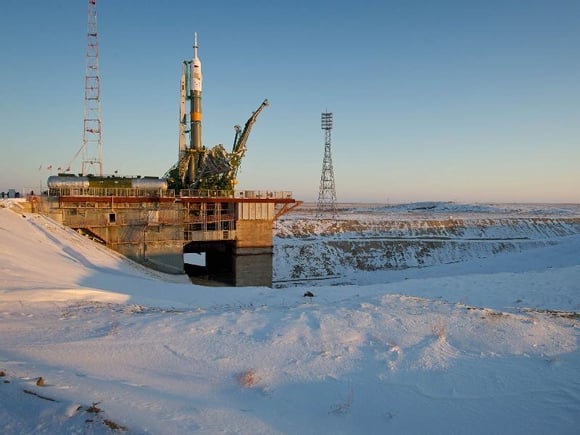 Soyuz TMA-03M at the launch pat at Baikonur Cosmodrome. Credit: NASA/Carla Cioffi
Russian cosmonaut Oleg Kononenko, the European Space Agency's Andre Kuipers and US astronaut Don Petit are scheduled to launch aboard the Soyuz TMA-03M spacecraft at 1.16pm GMT tomorrow, with NASA TV coverage starting at 12.30.
As of yesterday, the Soyuz rocket is sitting on the launch pad at Baikonur cosmodrome in Kazakhstan, ready for lift-off.
The ship is due to dock with the ISS on Friday at around 3.22pm GMT, and the three 'nauts will stay in space until mid-May.
Russia's Kononenko will be spacewalking during the mission along with crewmate and fellow cosmonaut Anton Shkaplerov, who has been on the station since November.
The cosmonauts will be using Russian Orlan spacesuits to head out on 14 February for six hours to do some maintenance work and possibly install a new experiment called Vynoslivost (endurance).
The experiment would put two trays of metal samples on the Poisk Mini Research Module 2 and leave them exposed to see how they get on. One tray would be brought in after a year and the other after three years, when they would then be returned to Earth for study.
Kononenko has spacewalked twice before, but it will be the first time for Shkaplerov.
The entire six-man crew will also be working on a whole bunch of science experiments during their time on the station, a list of which can be found here (PDF/84 pages – experiment list starts at page 46). ®