2011's Best... compact cameras
Hot shots
---
Fujifilm Finepix X100

You might be forgiven for thinking that Fujifilm took one look at the Leica X1 and thought it could go one better. Here we have a 12.3Mp APS-C shooter with a fixed 23mm f2 lens – equivalent to a 35mm wide-angle on a 35mm camera. Not much of a difference between the two there, although the Finepix X100 goes for truly retro styling with its built-in hybrid optical viewfinder, but in many respects the layout is similar too. However, its 2.8in screen has 460k-dots which is an obvious improvement but not in the same league as the latest DSLR panels that have double that count and then some.
The image quality is excellent and there are even film emulations on-board of Fujifilm classic emulsions to add to that retro touch. Kitted out with full manual controls, the Finepix X100 is very much the antedote to point and shoot, as this easy access to customisation urges the user to consider more creative options. There are auto modes if you need them, but those tempted by this breed of compact are likely to be too busy twirling the dials to notice. Incidentally, if the recent arrival of the Finepix X10 has caught your eye, bear in mind that this 4x zoom model has a much smaller 2/3in sensor.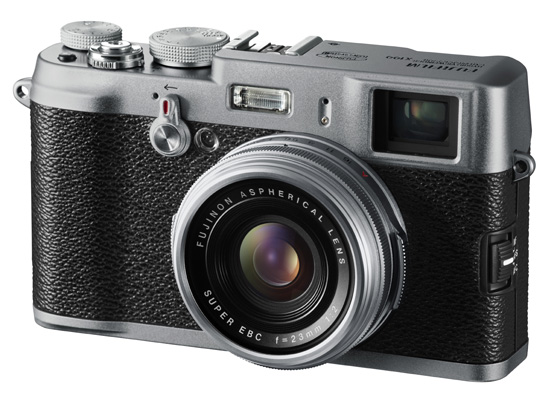 Reg Rating
75%
Price
£1000
More Info
Fujifilm
Olympus PEN E-PM1

If you're keen on the idea of a compact system camera but want to build the system slowly, then the Olympus PEN Mini E-PM1 won't disappoint. It shares the same lens mount as Panasonic's Micro Four Thirds models, but cheaper than its Lumix DMC-GF3 rival. Admittedly, the 12.3Mp MFT sensor on both these models has been eclipsed by the 16Mp offerings on more expensive siblings, but the PEN Mini PM1 images are respectable and noise only really becomes noticeable at the higher end of the ISO range.
Being an entry-level model, the dedicated controls are minimal with a menu driven approach delivering the majority of tweakable functions. It can be a fiddle but no more than others in this space and its 3in 460k-dot screen has ample space to aid navigation. And it's worth nosing around these menus too, as the small but well chosen offering of art effects are very striking and worth experimenting with. There's a clip-on flash provided plus support for external guns and all the optional accessories too.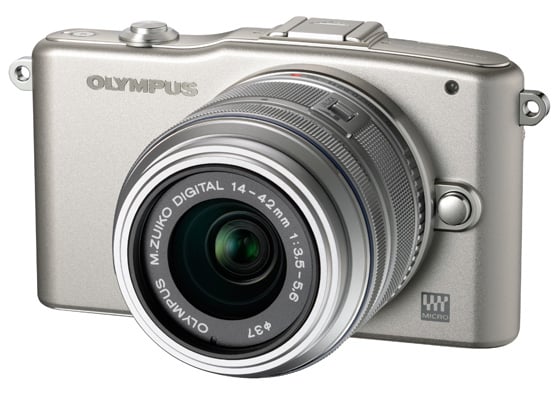 Reg Rating
80%
Price
£450 (14-42mm lens kit), £570 (14-42mm and 40-150mm lens kit)
More Info
Olympus
Sony NEX-C3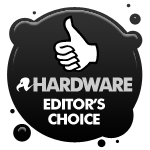 At £500 with a 18-55mm standard zoom lens, this 16Mp APS-C shooter is hard to beat. However, Sony has chosen to cut corners with its entry level model, limiting the NEX-C3 to its own F20S clip-on flash, which, unfortunately, isn't the brightest. Unlike the PEN Mini PM1, there's no conventional hotshoe/sync option for alternative guns which might stymie more ambitious users and it only shoots HD video at 720p. OK, so that's the bad news out of the way, the rest is pretty rosy, especially the articulating 922k-dot 3in LCD which is crisp and bright providing a reassuring view of what you're shooting. As with all NEX models, it takes on Sony's new E-mount lenses but with an adapter for Alpha A-mount and Minolta lenses can be fitted too.
While the autofocus isn't as surefooted as some other compacts here, when it comes to image quality, this new NEX baby doesn't disappoint and you can dig into the menus for manual control or opt for some picture effects, if the fancy takes you. Overall, the Sony NEX-C3 is tempting for the price but you'll need to decide what's more important – can you live without external flash choices and full HD video or does the big sensor and flip hi-res screen win the day? ®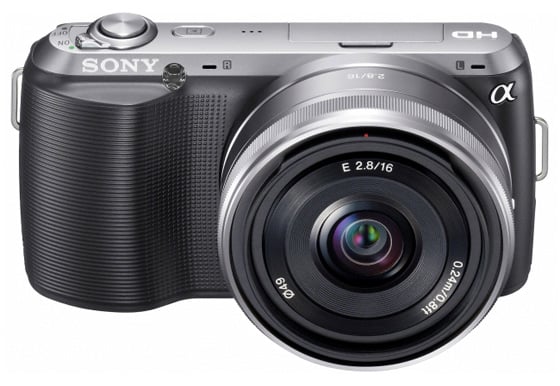 Reg Rating
85%
Price
£499 (18-55mm lens kit), £589 (16mm pancake and 18-55mm lens kit)
More Info
Sony
Similar topics
Narrower topics