NASA's Kepler mission, tasked with the illustrious mission of finding an Earth 2.0 for humankind, has located the first Earth-sized planets orbiting a star outside our solar system.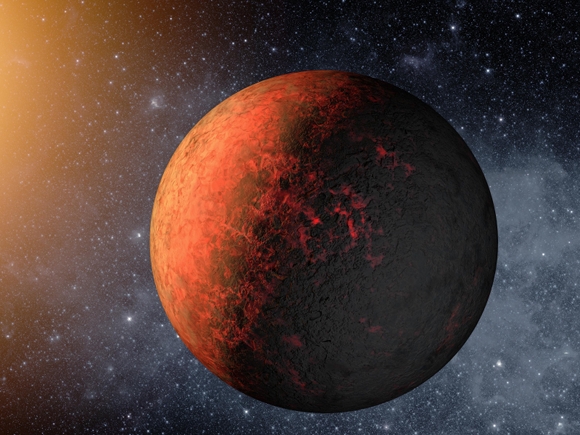 Artist's concept of Kepler 20e. Credit: NASA/Ames/JPL-Caltech
The two worlds, Kepler 20e and Kepler 20f, are too close to their parent star (their sun-equivalent) to be in the habitable zone - where liquid water could exist on their surfaces - but they are the smallest exoplanets ever confirmed in an Earth-type location.
Earlier this month, Kepler spotted the first Earth candidate in a habitable zone, Kepler 22b, but that rock is 2.4 times the size of our planet.
Both 20e and 20f, which are thought to be rocky worlds, are the next milestone because they're the right size.
Unfortunately, due to their proximity to their system's parent star and their short orbital periods - 20e orbits the parent star every 6.1 days and 20f every 19.6 - they are hot furnace-like planets completely inhospitable to any form of life.
The temperature on 20f, with balmy highs of 800° Fahrenheit (427°C), is similar to the weather on Mercury, while the climate on 20e, at more than 1,400°F (760°C), would melt glass.
"The primary goal of the Kepler mission is to find Earth-sized planets in the habitable zone," said Francois Fressin of the Harvard-Smithsonian Center for Astrophysics, lead author on the new study, published in Nature.
"This discovery demonstrates for the first time that Earth-size planets exist around other stars, and that we are able to detect them."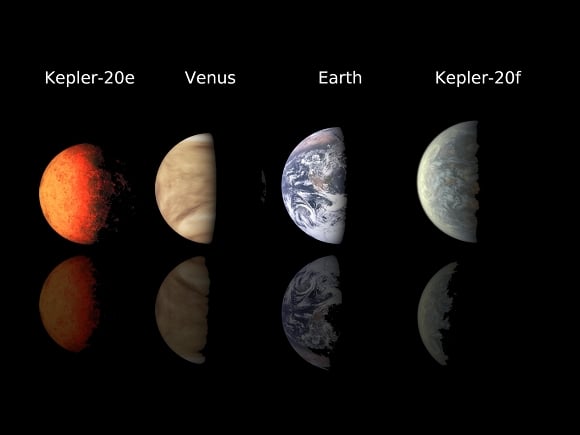 Planet line-up with Kepler 20e and 20f. Credit: NASA/Ames/JPL-Caltech
The Earth looky-likeys are part of the five planet system Kepler 20, which has a configuration that is very different from our solar system.
In our corner of the galaxy, small, rocky worlds orbit close to the Sun, and the big gassy planets are further out. But in Kepler 20, the worlds are organised in alternating size - large, small, large, small and large.
The boffins reckon the best explanation for this is that the planets have ended up in different places from where they formed. They think that the worlds were made farther out from their parent star and then moved in, probably by bumping into the leftover materials where they originated.
Kepler stargazers also reckon it's only a matter of time before they hit the jackpot - a planet with both the right size and orbiting happily in the habitable zone.
"We are on the edge of our seats knowing that Kepler's most anticipated discoveries are still to come," said Natalie Batalha, deputy head of the Kepler science team. ®
Similar topics