This article is more than 1 year old
3M CP45 pocket camcorder and projector combo
Making light of your photography
Review The 3M CP45 is a combination HD camcorder, 5Mp camera and LED-lit LCOS projector. Not much bigger than a couple of copulating iPhones, it can film and throw an image up to 65in onto a convenient wall.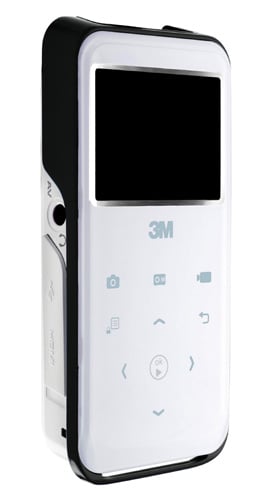 Shoot and show: 3M's CP45 camcorder projector
3M seems to be touting it at families who can't be bothered to upload their holiday shenanigans to YouTube, but having spent a few days with it I'm wondering if it's better considered a business presentation tool? Indeed, 3M sells a dinky 26in folder up accessory screen specially made for boardroom presentations. However, this is more likely to be found partnered with the company's MPro range of pocket projectors – super serious and all dressed in black, they miss out on the camcorder fun.
By contrast, the CP45 is a well-made little white shooter that feels solid in the hand. The review sample had black accents, but there's also a version trimmed in red. Beneath its 2.4in LCD screen are soft-touch controls both for shooting (projector/camera toggle, zoom, record etc.,) and menu navigation.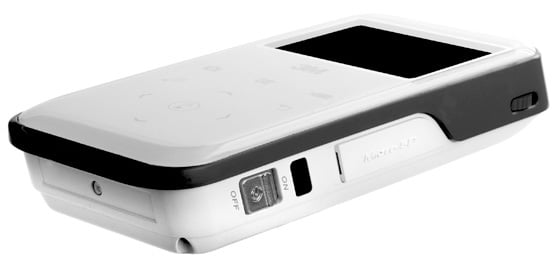 Note the projection focusing wheel on the far right
The flip side of the CP45 reveals the fixed focus lens and bright spotlight flash, while the LED lamp fires from the rim. 

You'll need 65in distance to project a 50in diagonal display, and around 82in to get to 65in. 

Adornments include a micro SD card slot, USB connector, mini-HDMI output and headphone mini-jack/AV source input. There's also a built-in mono speaker, for an all up weight of 190g. Included in the box is a USB cable and mini-jack to phono AV lead, but there's no mini-HDMI lead supplied.
Motion video is captured at 1280 x 720 in MPEG4 H.264, although you can also shoot at 720 x 480, 640 x 480 and 320 x 240. However, the CP45 can only project at 880 x 600 SVGA resolution. Arcsoft media converter is included allowing you to change any files (AVI, ASF, DAT, MOV, M4V, MPG, PPS, MPEG, MPE, RMVB, WMV, and Power Point) into the CP45's native tongue. This doesn't match the format support on the MPro models, which includes Word, Excel and PDF – an indication of that range's business aims.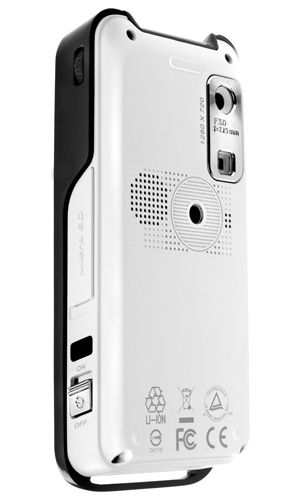 The centre hole is a tripod mount, best suited for projection
A 2GB internal memory is enough for around 40 minutes of video or 1,000 photographs. You can boost this with a memory card up to 32GB. When fully-charged, the lithium-ion battery offers around 80-100 minutes of projection time. Video recording runs for around 120-150 minutes depending on use. I recorded stuff on and off for four days without needing to recharge the battery.