This article is more than 1 year old
Pluto's blushing complexion riddle solved by boffins
Hubble spectrograph shines light on dwarf planet's colouring
Boffins using the new Cosmic Origins Spectrograph (COS) on the Hubble telescope have figured out what makes Pluto the colour it is.
The South West Research Institute's eggheads discovered a strong ultraviolet-wavelength absorber on the dwarf planet's surface, which suggests that there are complex hydrocarbon and nitrile molecules strewn on the ground.
The molecules could be produced by sunlight or cosmic rays interacting with the ices on Pluto, which are made of methane, carbon monoxide and nitrogen.
"This is an exciting finding because complex Plutonian hydrocarbons and other molecules that could be responsible for the ultraviolet spectral features we found with Hubble may, among other things, be responsible for giving Pluto its ruddy colour," project leader Alan Stern said.
"The discovery reminds us that even more exciting discoveries about Pluto's composition and surface evolution are likely to be in store when NASA's New Horizons spacecraft arrives at Pluto in 2015," he added.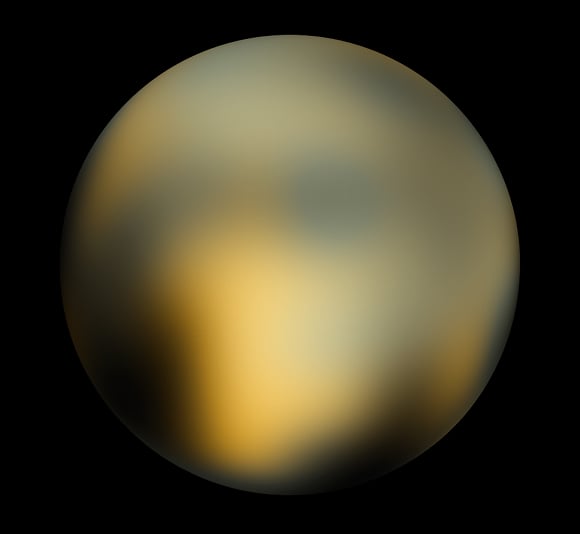 Hubble image of Pluto from February 2010. Credit: NASA/ESA/M. Buie/Southwest Research Institute
The South West Research Institute study of the dwarf planet's surface was published in the journal IOPScience.
The New Horizons craft, launched in 2006, is about halfway between Earth and Pluto and is expected to fly by the dwarf planet and its moons in July 2015. The vehicle is the fastest ever launched, bombing through the galaxy at around 36,000 miles an hour in order to cover the three-billion-mile journey to Pluto.
The COS was installed on Hubble during Servicing Mission 4 in 2009, making it a relatively new addition to the telescope's scientific armoury. ®