This article is more than 1 year old
Motorola Pro+ Qwerty Android smartphone
The best of both worlds?
Review Motorola's been keeping its hand in with an interesting variety of Android handsets of late. The Pro+ is clearly designed for business rather than fun, which is fine, but next to the top-end, revitalised Motorola Razr, it's not in the same league.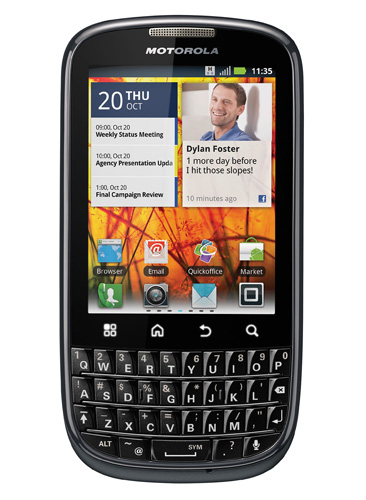 Doing the business: Motorola's Pro+ Android smartie
Following on from the original Motorola Pro earlier this year, it offers a newer version of Android and a slightly improved screen, but not a great deal else, though the all-plastic body feels sturdy enough and the rubberised plastic back feels comfortable.
Complementing the Qwerty keyboard data entry is the 3.1in capacitive touch screen. It offers 640 x 480-pixels (up from the Pro's 480 x 320) which seems good on paper, but at first glance it didn't look as sharp as it should, the colours didn't appear as vibrant as you'd expect and it all seemed a bit lacklustre really.

Not the slimmest, nor the fastest
But a quick glance at the settings made it clear that the auto brightness control is set a little low – great for the battery, but disappointing to look at. Setting the brightness to 'high' revealed that it can be extremely bright and sharp when you want it to be. Sensitivity is OK, I've certainly encountered worse, but it's not up there with the best, and needed a double tap occasionally to respond.
Now I like a good Qwerty keyboard as a rule. Unfortunately, this isn't one. The 35 keys have BlackBerry-style ridges but don't seem to have the ergonomic ease of the Canadian keyboard maestro's best efforts. These feel a bit awkward under the thumbs and aren't particularly easy to find without looking, but you'd no doubt become familiar with it over time.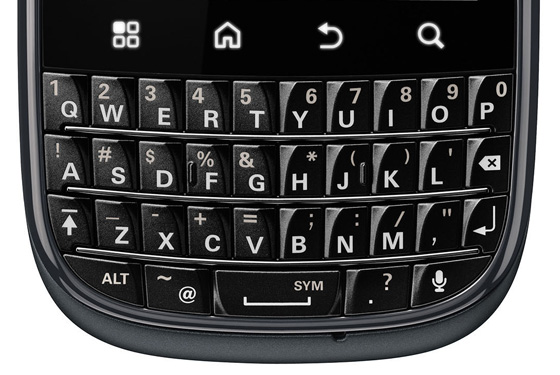 The keyboard shaping will look familiar to BlackBerry fans, but the layout isn't so easy to operate single-handed
Also, the number keys are arranged in the standard line across the width of the phone, doubling up with the top line of letter keys. It might be the standard line-up for computer keys, but it makes it harder to dial a number with one hand – it would have been better with a numeric keypad layout like the latest BlackBerrys have been using.